2007 DO-IT Trailblazers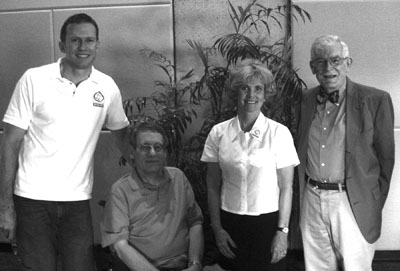 DO-IT director Sheryl Burgstahler and program manager Michael Richardson with 2007 Trailblazer Award recipients Dennis Lang and Ray Bowen.
DO-IT Trailblazer awards highlight DO-IT community members who, through their work and accomplishments, have changed the way the world views people with disabilities and their potential to succeed in college, careers, and community life. Congratulations to this year's honorees!
Dennis Lang, an associate director of the Disability Studies program at the University of Washington, persevered in promoting the adoption of the program at the University, which now resides in the School of Law. He has also mentored dozens of students pursuing the disability studies minor.
Anthony Arnold, a DO-IT Ambassador and '94 Scholar, has made significant contributions to the field of Augmentative and Alternative Communication (AAC) through his advocacy and career. He has also served as a powerful role model for the employment of individuals with disabilities that affect both mobility and speech.
Dr. Ray Bowen, as dean of the UW College of Engineering, made contacts at the National Science Foundation (NSF) in 1992 that lead to DO-IT's first grant funding from NSF. He mentored Dr. Sheryl Burgstahler, director of DO-IT, and facilitated collaborations between DO-IT and the College's award-winning programs for women and minorities. This created an expanded view of diversity that became a model for other departments and institutions.