2008 DO-IT Trailblazers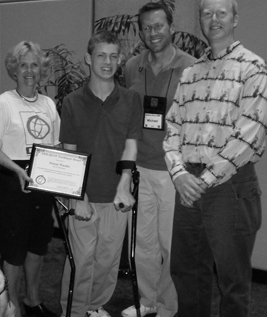 DO-IT director Sheryl Burgstahler, program manager Michael, and technology specialist Terry with 2008 Trailblazer Award recipient Daman Wandke at the keynote celebration evening.
DO-IT Trailblazer Awards highlight DO-IT community members who, through their work and accomplishments, have changed the way the world views people with disabilities and their potential to succeed in college, careers, and community life. Congratulations to this year's honorees!
Daman Wandke, DO-IT Ambassador and '05 Scholar, was recognized for his leadership in organizing disability awareness activities on a postsecondary campus and in the community. As a freshman, Daman founded the Students for Disability Awareness group at Western Washington University and is the program coordinator of the DAMAN Project (Disability Awareness Moving Across the Nation).
Al Souma, coordinator of Disability Support Services at Seattle Central Community College and DO-IT Advisory Board member, promotes awareness of mental health issues, accessibility, and the complex needs of veterans with disabilities in postsecondary education nationwide.
Dr. Mamoru Iwabuchi, associate professor at the Research Center for Advanced Science and Technology at the University of Tokyo, has promoted DO-IT practices internationally. He is the director of DO-IT Japan. This past summer marked the second year Dr. Iwabuchi and his staff provided a Summer Study program to Japanese high school students with disabilities.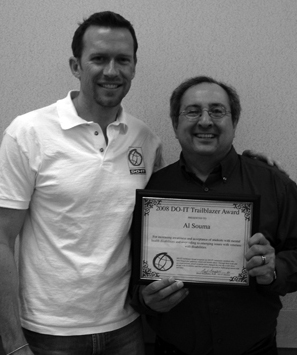 Program manager Michael Richardson with 2008 Trailblazer Award recipient Al Souma.