2016 CSUN Conference: Student Recap and Review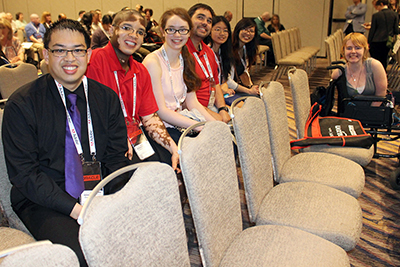 The 31st Annual International Technology and Persons with Disabilities Conference coincided with spring break for most of us students who attended. This year, eight students had the grand opportunity of attending the conference with DO-IT, a regular contributor to the CSUN Conference. This conference, hosted in San Diego by California State University, Northridge (CSUN), featured a wide collection of accessible technology products and ideas from regional, national, and international vendors.
During the first two days we attended several pre-conference workshops, where we engaged in a variety of hands-on activities with other conference participants. These workshops ranged from iOS 9 and Apple Watch accessibility to an accessible user design experience studio. During the conference itself we attended a variety of presentations on various topics around disability and technology. Topics included web accessibility guidelines in New Zealand, China, and other countries; inclusive education on a global scale; and accessibility of apps, including those from Google, Yahoo Fantasy Sports, and Apple.
Each of us had the chance to host the DO‑IT booth in the conference's exhibit hall, an area where participants got to know more about regional, national, and international companies and organizations promoting accessibility, as well as purchase accessibility related products. We shared DO-IT's purpose, activities, and resources to hundreds of participants, and shared how they can continue to engage with us. We met with representatives from a variety of companies, seeking to improve their employment diversity. It was a pleasure to meet everyone who stopped by our booth at CSUN.
While we learned about the various forms of accessible technology and ideas of accessibility to a diverse audience, our experiences with the CSUN conference reminded us of the importance of ensuring the accessibility of these events. Based on our experiences with attending conference sessions, workshops, and other related events, we realize how challenging it is to make events fully accessible and how important it is to give feedback and advocate for yourself to have your voice heard.
We look forward to witnessing any upcoming breakthroughs in technology, law and policy, and education that further promotes people with disabilities in the future.