2017 Trailblazer Award Winners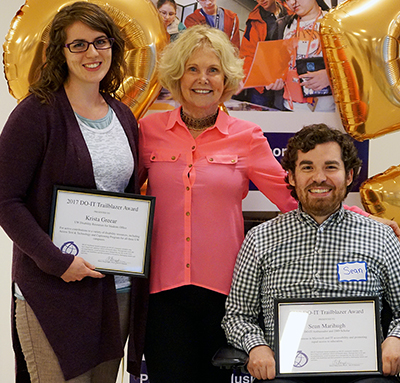 Two of the 2017 Trailblazers, Krista and Sean, celebrate with director Sheryl
Burgstahler
at DO-IT's
25th
anniversary celebration.
The DO‑IT Trailblazer award highlights DO‑IT community members who forge new pathways that will benefit others. Through their work and accomplishments they have changed the way the world views people with disabilities and have increased the potential of people with disabilities to succeed in college, careers, and community life. Congratulations to this year's honorees!
Sean Marihugh, DO-IT Ambassador and '09 Scholar, contributes to the accessibility of Microsoft products and arranges corporate visits for DO-IT Scholars and Ambassadors. Sean has presented about IT accessibility and equal access to education at national conferences and has been an active mentor in many DO-IT programs. He also volunteers as an accessibility instructor at DO-IT's Summer Study. While an undergraduate student, Sean initiated and designed an interactive web page that lets students with disabilities track scholarships based on interests and types of disabilities. He also helped redesign the "Information Technology and Disabilities e-Journal" using the current accessible web development guidelines.
Krista Greear, of the University of Washington (UW) Disability Resources for Students office, goes above and beyond her regular duties. She has enthusiastically participated in DO-IT training videos, conference exhibits, and presentations. Krista manages the Access Text & Technology Program and Captioning Program for all three UW campuses. She is involved with the UW's Web Council, the Approaches on Accessibility Interest Group, and the Online Advising Group. In her graduate work in Educational Technology, Krista aims to learn more about the tools, content, and strategies within online and hybrid courses in order to train faculty how to create accessible courses, degrees, and programs.
Sarah Wille is a senior researcher with Outlier Research and Evaluation at the University of Chicago and an AccessCSforAll partner. Sarah has worked to ensure that students with disabilities are included through her National Science Foundation funded grants related to computer science in K-12 education. The Computer Science & Students with Learning Differences study aims to expand participation in computer science by making computer science principles more accessible for students with learning disabilities and related attention disorders. As an active participant in several AccessCSforAll capacity building institutes and other meetings, Sarah has helped to advance the conversation on students with disabilities in K-12 education on a national level.
Leyf Starling, an Upper School faculty member at the Durham Academy, is an AccessEngineering partner. She has worked to ensure that students with disabilities have access to K-12 engineering education. As an active participant at AccessEngineering capacity building institutes, meetings, and other events, Leyf has recruited new participants to AccessEngineering efforts. In addition, Leyf has received AccessEngineering minigrants for Summer Engineering Experience for High School Students with Visual Impairments or Blindness and Inclusion of High School Students with Disabilities on FIRST (For Inspiration and Recognition of Science and Technology) Robotics Competition Team Activity.
Read more about DO-IT Trailblazers from past years online.