2018 Trailblazer Award Winners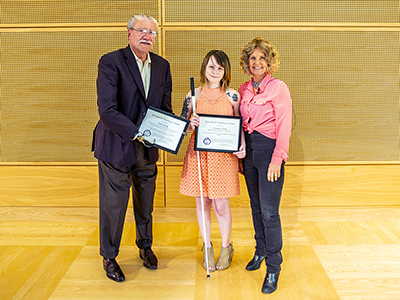 The DO‑IT Trailblazer award highlights DO‑IT community members who forge new pathways that will benefit others. Through their work and accomplishments they have changed the way the world views people with disabilities and have increased the potential of people with disabilities to succeed in college, careers, and community life. Congratulations to this year's honorees!
Dr. Shiri Azenkot is an assistant professor of information science at the Jacobs Technion‑Cornell Institute at Cornell Tech, Cornell University. Her research interests are in accessibility and interaction on new platforms. Shiri earned her Ph.D. in computer science and engineering at the University of Washington (UW) in 2014. As a student, Shiri was an active participant in DO-IT programs, including the AccessComputing project, which is co-led by the Paul G. Allen School of Computer Science & Engineering and the Information School. She has hosted research interns with a variety of disabilities, presented at a capacity building institute, and spoken in one of our videos. Shiri will be a featured speaker at the Tapia Celebration of Diversity in Computing in 2018.
Courtney Cole, DO-IT Ambassador and '13 Scholar, has been a powerful advocate for people with disabilities through her work and personal accomplishments. Courtney joined the Rooted in Rights (RiR) team in 2016 as a creative intern and in September 2017 accepted a position as a creative production assistant. She assists in the production of videos and other media content that cover topics such as the stigma of mental health, violence against people with disabilities, and the inequality that blind students face. The videos she has produced have reached thousands of people around the world. Currently, Courtney studies at Seattle Central College, pursuing an associate of arts degree. Courtney also writes for the RiR blog and other publications. Read Courtney's RiR blog posts here.
Dr. Shaun Kane is an assistant professor in computer science at the University of Colorado Boulder. He directs the Superhuman Computing Lab, which conducts research on accessible user interfaces, mobile and wearable interactions, and tangible computing. Shaun earned his Ph.D. from UW's iSchool in 2011. He was a participant in DO-IT programs as a student and is now an AccessComputing partner. In 2015, Shaun was a featured speaker at the Tapia Celebration of Diversity in Computing. He has hosted an AccessComputing intern in his lab, led computer science workshops at the National Federation for the Blind Youth Slam, and mentored other AccessComputing student participants.
John Kemp, a graduate of the Washburn University School of Law, is a renowned disability rights leader who co-founded the American Association of People with Disabilities and has partnered with, worked for, and served as board member, chair and CEO of leading disability organizations. He is the President and Chief Executive of the Viscardi Center (formerly known as Abilities!), a network of non-profit organizations that educate, employ, and empower people with disabilities. For decades, Kemp has been a role model and an ally of DO-IT and other organizations that serve to create a more inclusive world. His many awards include the Dole Leadership Prize from the Robert J. Dole Institute of Politics at the University of Kansas, joining a group of international recipients that includes Nelson Mandela. He has mentored DO-IT Scholars and served as the featured speaker for Summer Study 2018.
To read about DO-IT Trailblazers from past years, visit our awards page.