2021 RESPECT Panel on Intersectionality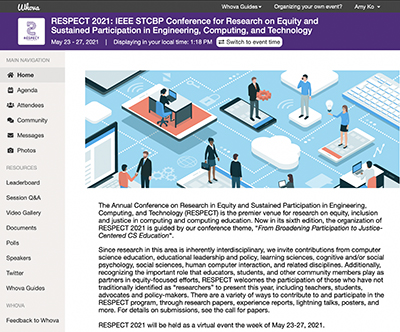 The Annual Conference on Research in Equity and Sustained Participation in Engineering, Computing, and Technology (RESPECT) was held virtually May 23-27, 2021. The RESPECT venue is for the dissemination of research and practice about equity, inclusion, and justice in computing and computing education. Among the many interesting presentations was a panel organized by AccessComputing titled "An Intersectional Approach to Including Disability in BPC [Broadening Participation in Computing]." The panelists were Cecilia Aragon from the University of Washington, Jerry Robinson from Google, Jeremy Waisome from University of Florida, and Rua Williams from Purdue University. All the panelists have disabilities and at least one other minority identity (woman, Latina, Black, or queer). Some of their disabilities were life-long (autism and cerebral palsy), while others were acquired later in life (mobility limitations and health-related disabilities). The panel began with each panelist introducing themselves, giving a short history of their education and work experience, and describing how their disability and other minority identity impact their lives. 
The lead question posed by the moderator, AccessComputing PI Richard Ladner, was, "How can conversations around BPC approach disability with an intersectional lens?" All the panelists reflected on their life experiences to answer this question. It was striking how different their experiences were, but a common thread was that having a disability added an additional battle in their lives due to societal expectations and structures. The next question was, "What advice do you have for our community about ways to be more welcoming and accessible to people with disabilities?" There were two general responses from the panelists. First, people in the community should learn and become knowledgeable about disability. It is not a simple binary trait, but complicated in many dimensions. Second, people in the community should listen to individuals with disabilities, not make assumptions, and "believe us." The panel ended with questions from the audience. It was great to hear about the life experiences and perspectives from such accomplished computing professionals who have disabilities.