About the CBI (Increasing the Participation of Students with Disabilities in K-12 Computing 2016)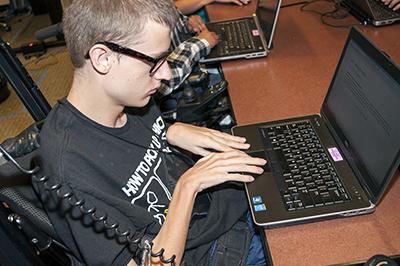 The Increasing the Participation of Students with Disabilities in K-12 Computing CBI, sponsored by AccessCSForAll , was held in National Harbor, MD on February 2 – 3, 2016. Its purpose was to encourage and support efforts to make K-12 courses more welcoming and accessible to students with disabilities. Taking place immediately following the CISE and Education and Human Resources (EHR) Principal Investigator and Community Member meeting, attendees included postsecondary faculty, individuals who provide professional development for K-12 teachers, secondary teachers, disability services professionals, and individuals with disabilities.

As is typical of a CBI
All participants contributed to its success.
Speakers participated in group discussions.
Experts in all topic areas were in the audience.
Participants gave presentations and participated in large and small group discussions.
Some predetermined professional development was presented and new content was delivered as the meeting unfolded.
Participant interests were expressed and expertise was made known.

The CBI provided a forum for discussing recruitment and access challenges, sharing successful practices, developing collaborations, and identifying systemic change initiatives for increasing the participation of students with disabilities in ECS and CSP courses.

Topics discussed included
universal design of instruction (UDI) and academic accommodations;
accessibility of programming environments;
assistive technology and accessible IT design; and
best practices for making courses welcoming and accessible to students with disabilities.

The agenda for the CBI, summaries of the presentations, and working group discussions are provided on the following pages.