AccessComputing Capacity Building Award Presented to Two Partners at Carnegie Mellon University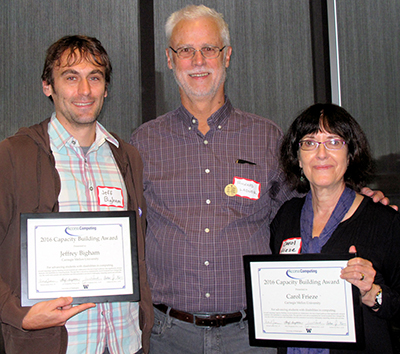 Jeff Bigham and Carol Frieze, both of Carnegie Mellon University (CMU), were recipients of the 2016 AccessComputing Capacity Building Awards. Capacity Building Award recipients are collaborators who have forged pathways that significantly advance students with disabilities in computing fields. Through their work and accomplishments, award recipients have changed the way the world views people with disabilities and their potential to succeed in challenging computing careers and activities.
Jeff Bigham is an Associate Professor in the School of Computer Science (SCS) at CMU. He received the Capacity Building Award for his work engaging students with disabilities in accessibility research and outreach activities.  Jeff has hosted multiple AccessComputing research interns in the accessibility research that his lab conducts. He has also led computing activities for students at National Federation of the Blind conferences.
Carol Frieze, Director of Women@SCS and SCS4ALL at CMU, received the Capacity Building Award for her working making broadening participation programs welcoming and accessible to students with disabilities. Carol has made efforts to include students with disabilities in existing computing outreach activities and expanded efforts to offer workshops and activities for students with disabilities. This fall, Carol planned a Capacity Building Institute at CMU that addressed current and future resources for CMU faculty, staff, and students with disabilities and showcased some of the amazing disability research going on at CMU.