The AccessComputing Knowledge Base (AccessComputing News - January 2015)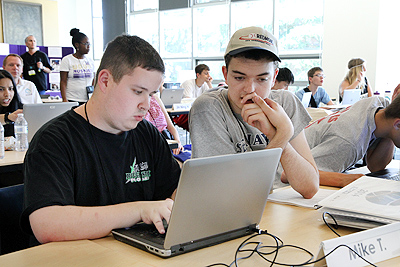 Did you know that the searchable AccessComputing Knowledge Base includes over 480 articles each as a questions and answer (FAQ), case study, or promising practice? These short articles are used to increase the capacity of postsecondary institutions, precollege educators, projects that broaden participation in computing, and industry to fully include individuals with disabilities in computing fields.
Hot topics in the Knowledge Base include:
What are typical accommodations for students with ADHD?
The Summer Academy for Advancing Deaf and Hard of Hearing in Computing: A Promising Practice for Encouraging Students To Study Computing in College
What is the difference between open and closed captioning?
What is the difference between the W3C guidelines and the Section 508 standards for web accessibility?
Universally Designed Web Pages: A Case Study on Access Issues for a Student with a Learning Disability
What are specific computer applications that can assist students with learning disabilities?
How can I make my computing department more accessible to students with disabilities?
What are the NIMAS Development and Technical Assistance Centers? DO-IT: A Promising Practice in Designing Accessible Videos
Are there any web-based tutorials on web accessibility?
The Knowledge Base can be found at www.uw.edu/accesscomputing/search-accesscomputing-knowledge-base. The Knowledge Base is an ever evolving collection. Articles we expect to add in early 2015 include an FAQ on how to include individuals with disability into broadening participation activities for women or under-represented minorities, a case study about attending conferences via robots, and a promising practice on how to host a collaborative meeting.
If you have ideas or suggestions for new content to include in the Knowledge Base simply email us at accesscomp@uw.edu.