AccessComputing Minigrants (AccessComputing News - Jan 2010)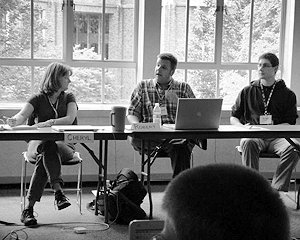 Panelists presenting to students at the web accessibility workshop.
In the last two years, the following projects have received funding through AccessComputing minigrants. Congratulations to all of these recipients for conducting successful projects!
Projects:
Accessibility Awareness Training Workshop was organized at the University of Maryland Baltimore County to familiarize faculty, staff, and teaching assistants with academic issues affecting students with disabilities.
Alice in Roboland project at Auburn University was integrated into a hands-on technology and science summer camp.
Assistive Technology Expo was held at the University of Wisconsin–Madison to promote computing/IT careers.
Capacity Building Institute was brought to Commonwealth Alliance for Information Technology Education to increase the capacity of computer science and information technology programs to fully include and increase the representation of students with disabilities.
Computer Literacy Academy for Children with Disabilities at Auburn University provided children with disabilities the opportunity to improve computer, communication, cognitive, and social skills.
Computing Science Road Show was developed at Southern Oregon University to travel to five high schools to recruit students to study computing in college and provide accessible technology tools.
EAST-2 Computing Institute was held at University of Southern Maine to increase the representation of individuals with disabilities in computer science fields.
Idaho Partnership on Higher Education at Eastern Idaho Technical College coordinated a conference of practitioners to discuss working with veteran students to make campuses more accessible.
Increasing STEM Lab Accessibility course was organized at the University of Southern Maine to integrate adaptive technology into a university class.
Promoting Computer Science to Students with Visual Impairments through Game Programming collaborative event between the Rochester Institute of Technology and Auburn University was held to promote interest in computing for students with visual impairments.
Return to Learn for Veterans Course was held at Missouri Southern State University to encourage and support veterans with disabilities to succeed in higher education and careers in the computer/technology field.
Roadshows, Tours and TechNights for Children with Hearing Loss event was held at Carnegie Mellon University to provide computing-related information to students and expose children to basic technology skills.
Robotics Track at the National Federation of the Blind Youth Slam was organized at the Rochester Institute of Technology to provide students with team working experiences while learning robotics programming
Scripting Enabled event at the University of Washington brought together developers, researchers, and students with disabilities to develop web accessibility solutions.
Summer Computing Institute was held at the University of Rhode Island for students with disabilities to promote their interest in college courses and careers related to computing.
Technology and Disability in the Developing World conference was held at the University of Washington to expand the interest of computer science and engineering students in researching and designing low-cost technologies for people with disabilities.
VET Support for Tallahassee Community was created at Florida State University to conduct a capacity-building institute to create community support and awareness for veterans.
You Can DO-IT High School Transition Event at Eastern Idaho Technical College held two separate events for students with disabilities to learn more about the college experience.
Individuals:
Accessing Higher Ground 2009 Attended by: One faculty and one staff member from Eastern Idaho Technical College's Computer Network Technician and Web Development Programs.
CSUN 2009  Attended by: Assistive Technology Coordinator at Boise State University; AccessComputing team member and employee from Yahoo!; and Technology and Production Support Services representative from Oregon State University, who also delivered a presentation.
U.S. Department of Defense's Worldwide Education Symposium Attended by: Ten employees from Georgia State University's Veterans Coordinating Council.