AccessComputing Spotlight: Lauren Siegel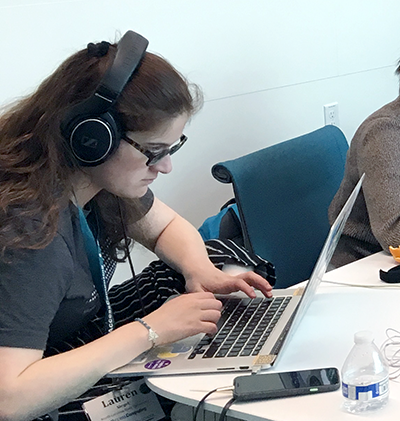 Lauren Siegel graduated from North Carolina State University last month with bachelor's degrees in computer science, political science, and economics.
Disability community and accessibility have always been important parts of Lauren's life and education. As a first-year student, she co-founded an organization focused on running accessible LEGO robotics workshops for kids and teens in her hometown. During her junior year, Lauren attended the AccessComputing OurCS workshop at the University of Washington, where she had the opportunity to learn about accessible virtual reality and meet other Blind and low vision women in computing. Having the opportunity to both learn from other disabled women in computing, and put accessibility knowledge into practice were two major highlights of her college experience that kept her motivated and energized to stay in the computing field.
During her sophomore year, Lauren ran Diversity Education Week programming on Blindness and disability for the NC State community. While in her senior year, Lauren led a Birds of a Feather session on having a disability in computing at the Tapia Conference, and she spoke on a panel with fellow AccessComputing members, Naba Rizvi and Meenakshi Das, about navigating the tech industry with a disability at the Grace Hopper Conference. These experiences encouraged Lauren to continue incorporating disability community building and education as part of her career in tech.
Lauren was also involved in many on-campus activities. Some of the most impactful extracurricular and vocational experiences she had were being president of her university's engineering and humanities dual-degree program, working as a Computer Science teaching assistant, holding leadership positions in Student Government, serving as an ambassador for the Department of Computer Science, and volunteering in multiple tech for good organizations. Through her multidisciplinary education and extracurriculars, Lauren developed an interest in tech public policy and data privacy.
After graduation, Lauren will be joining Google as a software engineer and hopes to attend graduate school for Computer Science and Public Policy.