AccessComputing Student Internships (AccessComputing News - January 2014)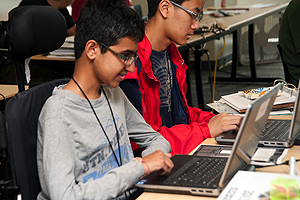 Two students working on their laptops in a classroom.
AccessComputing has funded over 140 internships for students with disabilities to work on research as well as lab, technical support, and other computing projects. Through these experiences, students have learned how to request reasonable accommodations, communicate with supervisors and co-workers, collaborate with others, and manage priorities.
Students who have participated internships have told us:
"I am applying to graduate school, so I had a preview of what research will be like."
"I learned how to work independently on a complicated project, and how to adapt my work to suit my disability needs."
"Because of my Asperger's syndrome, interviewing was a major obstacle in my job search. The internship allowed me to develop my social skills."
"I learned what it was like to actively write, improve, problem solve, and troubleshoot a program for the first time, while also learning how to communicate and explain my ideas to others."
"The main thing I learned was being an integral part of a team, as well as being able to contribute to the team's goals. I also learned more of the hardware and user-end aspects of computer science."
"My internship...gave me valuable, real-world experience that I could not have gained from college courses."
"Despite being visually impaired, I can continue to work toward a degree in software engineering. My confidence level has increased along with my determination."
"I learned many soft skills (teamwork, time management, presentations) as well as technical skills."
"I learned the importance of writing code that can easily be read and understood by other programmers."
"I learned how to design a complex website from scratch with little to no assistance."
Research projects include:
developing a methodology to measure network performance for mobile devices
creating a bioinformatics project to implement replica-exchange molecular dynamics
developing an accessible viewing device for deaf and hard-of-hearing students to use in the classroom
Paid interns include:
a motion capture intern who worked at a museum focusing on science, technology, and art
a web development intern who created an online learning tool
an accessible technology (AT) intern who provided information on AT to clients
AccessComputing has limited funds to support internships for members of the AccessComputing Student Team. Team Members also participate in mentoring and receive support from AccessComputing staff. Visit www.uw.edu/accesscomputing/get-involved/students/join-accesscomputing-team for more information and an application.