AccessComputing Student Team Members (AccessComputing News - January 2012)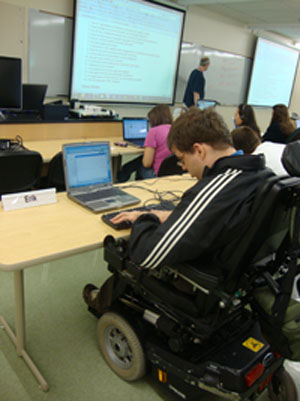 Student working in a classroom.
It's always important for students to be thinking about their professional development and their career plans. AccessComputing invites students with disabilities who are pursuing computer science or other computing-related majors nationwide to join our AccessComputing team.
Student team members engage with AccessComputing project staff and mentors, and in an online mentoring community. They learn about paid computing internships, scholarships, career fairs, and other opportunities.
Current team members include high school, community college, undergraduate, and graduate students who are pursuing degrees in a wide variety of computing careers that include systems designers, computer scientists, information professionals, software developers, information systems analysts, technology teachers, and computing faculty.
Students who wish to join the team, should complete and submit an application, available online at: www.uw.edu/accesscomputing/team_app.html. For further information or help with the application, students are encouraged to contact me at blaser@uw.edu.