AccessComputing Supports Projects Nationwide (AccessComputing News - January 2014)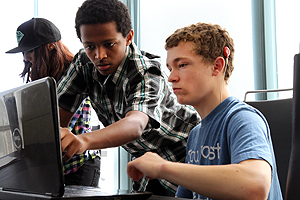 Two students together working on a laptop.
Since 2006, the Alliance for Access to Computing Careers (AccessComputing) has supported activities nationwide in order to increase the number of people with disabilities, including post-9/11 veterans, successfully pursuing computing careers. AccessComputing minigrant funds have been used to expand existing computing events to involve students with disabilities, create new stand-alone events designed to attract and support students with disabilities into computing fields, and support professional development opportunities.
For AccessComputing minigrant success stories, visit www.uw.edu/accesscomputing/get-involved/educators-employers/minigrants/projects-fundedminigrants.