AccessComputing Unveils Accessible University 3.0 (AccessComputing News - January 2016)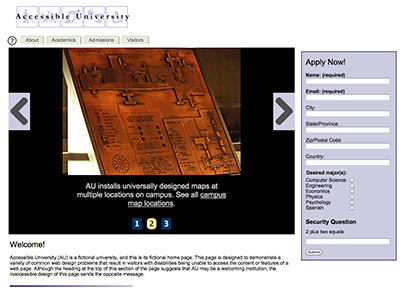 The Accessible University (AU) demo site that I created and maintain features two versions of a home page for a fictitious university.  The first version is an inaccessible version and includes at least 18 accessibility barriers. The second version is an accessible version and integrates solutions to each of the barriers presented in the first version. A third page lists and explains each of the barriers and solutions, and links to other resources for additional information.
AU was created as an instructional tool for helping web designers and developers and anyone else with an interest in web accessibility to learn about common web accessibility problems and solutions in an easy-to-understand way. It has been widely used at trainings, presentations, and workshops on accessible web design. 
AU was originally developed in 2002 as part of the AccessIT project at the University of Washington, with support from the National Institute on Disability and Rehabilitation Research of the U.S. Department of Education. Since then, it has been updated and maintained by AccessComputing. 
The version 3.0 upgrade was unveiled in a presentation titled "Carousels, Dropdowns, and Modal Dialogs: Accessibility and Common Web Widgets" at the HighEdWeb conference in October 2015. The upgraded version includes many improvements and enhancements, including the discussion of the accessibility issues involved in the features listed in the presentation title. The HighEdWeb presentation was well attended and well received, and attendees specifically commented on how much they appreciated the interactive "Spot the Barrier" exercise using the AU demo site.
AU 3.0 is online, and freely available for others to use and share for noncommercial purposes with proper attribution to AccessComputing. The source code is also available.