AccessCSForAll Capacity Building Institute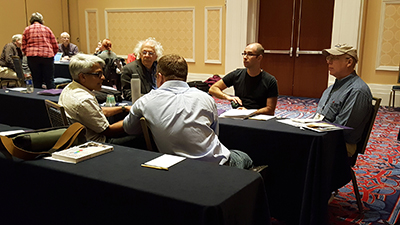 AccessCSForAll held Increasing the Participation of Students with Disabilities in K-12 Computing Courses in February in National Harbor, MD following the CISE/EHR Principal Investigator & Community Member meeting. Attendees included over twenty-five postsecondary faculty, individuals who provide professional development for K-12 teachers, secondary teachers, disability services professionals, and individuals with disabilities.
Presentations from Sheryl Burgstahler, Andreas Stefik (University of Nevada Las Vegas), Sarah Wille (University of Chicago), Emmanuel Schanzer (Bootstrap Project), and Amber Wagner (Kennesaw State University) focused on strategies and technologies that can make K-12 computing education more welcoming and accessible to students with disabilities. Participants spent much of the meeting in working groups further delving into these topics.
Proceedings are posted on the AccessCSForAll website.  These proceedings share pertinent resources and discussions, including information about the accessible programming language Quorum.