AccessEngineering Invites DO-IT Scholars to Solve Accessibility Problems in UW CoMotion Makerspace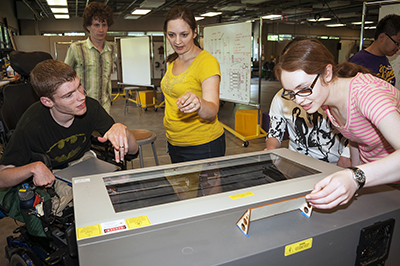 DO-IT staff Brianna and DO-IT Interns Cody, Clarissa, and Hannah review equipment for accessibility in the UW
CoMotion
Makerspace
.
In July, as part of an AccessEngineering activity, a group of DO-IT Scholars visited the University of Washington (UW) CoMotion Makerspace to partake in a prototyping challenge and discuss accessibility challenges in the space. A makerspace is designed to encourage innovation and allow people to tinker and create, making available a variety of tools and equipment, including 3D printers, laser cutters, hand tools, and sewing machines. Many universities, libraries, and other organizations are setting up their own makerspaces, making this an ideal time to encourage universities to ensure these spaces are accessible to individuals with disabilities.
Through their visit, the Scholars provided feedback that was used to refine DO-IT's online publication, Making a Makerspace? Guidelines for Accessibility and Universal Design. These guidelines will be widely shared with universities across the country. In addition, UW CoMotion Makerspace was able to upgrade the accessibility in their space to allow more students with disabilities to feel comfortable creating in the makerspace.
UW Today reported the story, "How Makerspaces Can be Accessible to People with Disabilities," featuring the discussions among the group and the upgrades suggested. NSF shared the article on their website and tweeted it to almost 700,000 followers.
KUOW also covered the story, "UW Courts Students With Disabilities To Engineering Field With New MakerSpaces," with interviews with Kat Steele, co-PI of AccessEngineering, and one of the DO-IT Scholars involved in the project.
Another story by King 5 News, included an interview with Kat Steele and another one of the DO-IT Scholars. The feature can be seen on the King 5 website. Learn more about AccessEngineering activities online.