Accessible Technology Resources on Campus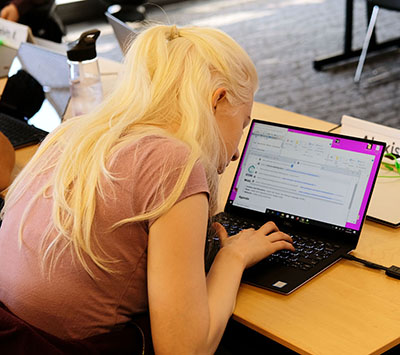 There are many services at the University of Washington to help students with disabilities obtain access to accessible technology. Though the Access Technology Center (ATC) office is closed, many staff are available remotely for questions and meetings.
The Access Technology Center
The Access Technology Center (ATC) on the Seattle campus provides resources to improve access to computing resources for University of Washington students, faculty, and staff. The computers, software, and special equipment in the center and at other locations on UW campuses provide
access for blind users via speech output or braille;
screen magnification for people with low vision;
alternatives to the standard keyboard and mouse;
speech recognition software as a writing tool;
tools to make reading and writing easier;
accessories for comfortable computer use; and
the capability to produce documents in alternative formats such as e-text, braille, and large print.
For information about assistive technology on your campus, ask your disability services representative. Visit the ATC at the UW Seattle campus when open in Mary Gates Hall, room 064, or consult their website.
Center for Technology and Disability Studies
The Center for Technology and Disability Studies (CTDS) is an interdisciplinary program within the Center for Human Development and Disability and the Department of Rehabilitation Medicine in the School of Medicine. For a list of CTDS projects and activities, visit their website.
Accessible Technology at the UW
The Accessible Technology website provides resources and tips related to IT accessibility, as well as opportunities for community involvement. Check it out online.
Need an alternative, accessible document? Check out Disability Resource Services's document conversion tool.