Ambassador Named University of Washington President's Medalist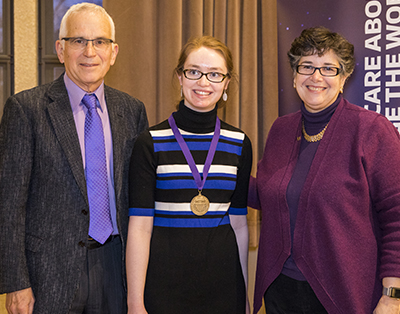 Hannah Werbel, a 2013 Scholar, was awarded the University of Washington (UW) President's Medalist award for the 2015-2016 academic year. There were three medalists in all; Hannah was the freshman recipient. Winners were selected based on "academic performance as well as their co- and extra-curricular involvement."
UW President Ana Mari Cauce presented the award.
Hannah is a computer science major and in the interdisciplinary honors program. During high school, she interned with UW's Center for Neurotechnology (CNT). At the CNT she analyzed data from computer interface experiments via computer scripts she had written. Hannah worked as a teaching assistant (TA) last quarter to teach a programming class. When not in class or researching, Hannah is an active member of both the Husky Marching Band and the basketball pep band, where she plays piccolo.
Hannah also has a passion for accessibility and is the president of the Washington Association of Blind Students. She also works for DO-IT as a member of the ATeam, a group of student leaders who share their experiences on panels, give their input, and help plan events.
Congratulations on this great honor, Hannah!
Read about the other medalists here.