Ambassador Steven Toyoji Places in Lilac Bloomsday 12K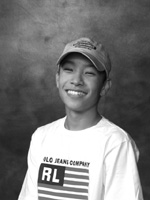 DO-IT Ambassador, Steven Toyoji
On Sunday, May 6, over 40,000 people (including me) flocked to Spokane, Washington to participate in the 30th annual Lilac Bloomsday 12 kilometer run/walk. The route is challenging, and when I finished walking I thought my time of just over two hours was pretty good, until I attended the awards ceremony. The hill where the ceremony was held was blanketed with racing wheelchairs! The junior wheelchair racing team from Spokane, decked out in matching racing gear, caught my eye immediately. As the awards were announced, to my delight, I heard one very familiar name: DO-IT Ambassador, University of Arizona student, and elite wheelchair athlete, Steven Toyoji. He placed third in the Wheelchair Division, taking home a $700 prize!
The Wheelchair Division at the 2007 Lilac Bloomsday was the largest in ten years and, in the Quad Division, Spaniard Santiago Sanz-Quinto set his third consecutive course record with a 32:44 victory! The Lilac Bloomsday is the first run in road racing history to feature a team wheelchair competition between university-level athletes. Making history, the two competing teams, including two males, two females, and one T-2 Quad competitor, went head-to-head with the University of Illinois team beating the University of Arizona. The University of Illinois will display the Bloomsday Collegiate Challenge trophy on their campus for the next year. Competitors from both teams hope that more universities will develop similar programs before next year's Bloomsday event on Sunday, May 4, 2008.
Spokane will also host the 2007 Adult National Wheelchair and Amputee Track and Field Games and the National Junior Disability Championships July 21-28.