ASSETS 2018 Conference on Computers and Accessibility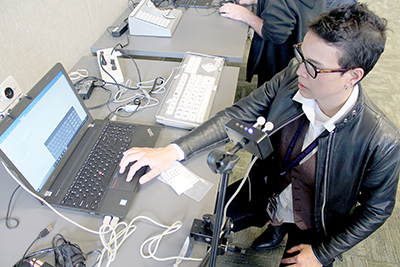 AccessComputing affiliates were prominent in both attending and publishing at the 20th International ACM SIGACCESS Conference on Computers and Accessibility held from October 21-24, 2018 in Galway, Ireland. This conference, known succinctly as "ASSETS," is the premiere forum for disseminating research results in the field of accessible computing. ASSETS brings together experts from around the world who do research, teach, and advocate on topics related to technology and people with disabilities. Many of the scientists and inventors who attend ASSETS are people with disabilities, adding a degree of insight, authenticity, and expertise to the conversations at the conference. The conference also attracts a thorough mix of professors and students, as well as research scientists from industry. For example, multiple researchers from Microsoft Research, an AccessComputing partner, were in attendance, including Meredith Ringel Morris and Ed Cutrell.
In fact, AccessComputing members were in strong attendance in general. From the University of Washington, professors Richard Ladner and Jacob O. Wobbrock were there. Professors from partner universities were also in attendance, including Kristen Shinohara and Matt Huenerfauth from the Rochester Institute of Technology; Kyle Rector from the University of Iowa; Shaun Kane from the University of Colorado Boulder; Shiri Azenkot from Cornell Tech; and Jeffrey Bigham from Carnegie Mellon University, among many others. The ASSETS 2018 proceedings were chock-full of research publications from AccessComputing members as well. In fact, about 20 of 35 papers at the conference had at least one author affiliated with AccessComputing! Clearly, there are too many to list here, but here are some highlights by AccessComputing affiliates:
The 2018 Best Paper award went to "Modeling the Speed and Timing of American Sign Language to Generate Realistic Animations" by Sedeeq Al-khazraji, Larwan Berke, Sushant Kafle, Peter Yeung, and Matt Huenerfauth.
The 2018 Best Student Paper went to "Interdependence as a Frame for Assistive Technology Research and Design" by Cynthia Bennett, Erin Brady, and Stacy Branham.
A Best Paper nominee was " 'It Looks Beautiful but Scary': How Low Vision People Navigate Stairs and Other Surface Level Changes" by Yuhang Zhao, Elizabeth Kupferstein, Doron Tal, and Shiri Azenkot.
Another Best Paper nominee was "Exploring the Data Tracking and Sharing Preferences of Wheelchair Athletes" by Patrick Carrington, Gierad Laput, and Jeffrey Bigham.
These highlights are just a few of the standout papers with AccessComputing-affiliated authors at the conference. They, and many other affiliated papers, demonstrate the strong commitment to developing and improving accessible technologies by affiliates of AccessComputing. They also represent a glimpse into the future, fitting for a conference that was held in one of Europe's westernmost towns, with wide-open views of unending ocean stretching out to infinite possibilities. ASSETS 2018 in Galway, Ireland, will surely be one to remember!