Attending the US Business Leadership Network Conference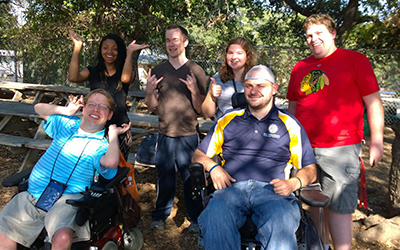 Students nationwide bond at business leadership conference.
I recently went to the US Business Leadership Network (USBLN) conference in Austin, Texas. About 750 people attended to network and discuss the inclusion of disability as well as diversity in the workforce. This included a number of Fortune 500 companies, including Northrup Grumman, Microsoft, EY, Lowe's, AT&T, Wells Fargo, and many more.
The student pre-conference focused on how to best prepare for getting a job. We attended sessions hosted by employers and the Mistubishi Electric America Foundation (MEAF) about networking, how to have a good interview, and how to make a good impression. MEAF also provided the opportunity to participate in an Innovation Lab, where we were put into small teams to create a plan to fill in the gap in the workforce that people with disabilities may face. It was challenging but fun to learn the different perspectives people brought to the table.
This school year, I am a part of the Student Advisory Council (SAC), which is composed of 10 people with disabilities across the nation. We were mentors at the conference to those who needed assistance, and we helped people learn about topics and issues from the perspective of a person with a disability. We also got in touch with our local BLNs about what we could do around our state to ensure that people with disabilities are getting what they need to be successful in challenging careers. Being a part of SAC is a great opportunity because I can see what companies have done so far to include people with disabilities in their workforce and what could still be done. It also gives me the opportunity to meet people with different experiences in finding a job and being in the workforce.
Overall, the conference goal was to pull people together from all over the world and give them a chance to share what their companies have done to increase accessibility for people with disabilities. The conference gave them a chance to reflect on what they have done and network with others to see what they could do more to enhance the workforce as well as enhance customer service.