This summer DO-IT will host its twenty-first annual Summer Study program for DO-IT Scholars, providing participants the opportunity to experience life on a college campus and explore challenging academic and career fields such as those in science, engineering, and computing. Primary funding for the Scholars program is provided by the state of Washington. For more information, visit www.washington.edu/doit/do-it-scholars.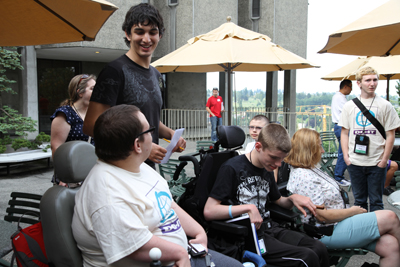 I am pleased to introduce you to the new Scholars:
Alex likes studying math and science at Walla Walla High School. He is interested in learning about space travel and understanding the universe. He uses his artistic abilities as a way to express himself. Alex has cerebral palsy.
Antonio enjoys history and writing. He hopes to graduate from high school with First Honors, which requires a 3.7 GPA or higher. He would enjoy a career as a radio or television sports announcer. He is the manager for his high school basketball team and a baseball umpire.
Brenna, who has learning disabilities, attends Jefferson Community School in Port Townsend. She was the youngest filmmaker in the Port Townsend Festival. She is on a mountain bike team and enjoys photography and sports.
Clarissa has cerebral palsy and left-sided hemiplegia. She lives in Everett and attends Kamiak High School. She likes to sing and enjoys learning Japanese.
Courtney is an honor roll student and hopes her interest in English might lead to a degree in journalism and a career as a magazine or newspaper editor. She is also in the Olympic High School symphonic band. Courtney has a visual impairment.
Dustine, who attends Roosevelt High School in Seattle, has Asperger syndrome. He would like to study either law or computer science. He enjoys sports, particularly the Seattle Seahawks.
Ellen lives in Seattle and attends Aviation High School. She has learning and speech disabilities. She is interested in pursuing a career in either aeronautical science or mechanical engineering. Right now her favorite subjects are math and science.
Hannah's favorite classes are science and language arts. She enjoys reading and plays flute in her school band. She has participated in several mission opportunities in the past few years.
Julian attends Kamiak High School in Lynnwood. His favorite classes are math and creative writing. He hopes to eventually go into product design related to the sports industry. Julian has a traumatic brain injury.
Karly goes to Nova High School in Seattle. She has a non-verbal learning disability and ADD. Her two favorite classes are language arts and advanced French. She participated in a Reel Grrls workshop called Dis This! where her group made a short video about disability awareness.
Kayla lives in Lynnwood and attends both high school and college through Running Start. She is interested in math, English and science. She hopes to go to law school to pursue a career in disability law or civil rights. Kayla swims for the US Paralympic Swim Team.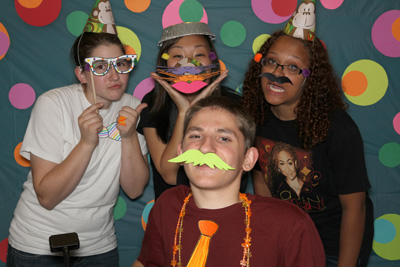 McKenna enjoys volunteering and playing wheelchair basketball. She traveled to the Netherlands as a youth Paralympic ambassador. She is from Arlington and attends Lakewood High School. McKenna has arthrogryposis.
Michael attends Henry M. Jackson High School in Mill Creek. He enjoys computer programming in Visual Basic and would like to become a programmer analyst.
Nicole attends Kentwood High School in Kent. She has cerebral palsy. She would like to pursue her master's in special education with some studies in business. She is also considering a career as a writer since she enjoys her English classes.
Olivia attends Mt. Rainier High School and hopes to begin Running Start soon. Her favorite subject is science. She is very athletic; she's played wheelchair basketball as a Junior Sonic, has swum with the Shadow Seals, and was on her high school track team. Olivia has cerebral palsy.
Rahil is very interested in science and technology. He attends Bothell High School. He has Duchenne muscular dystrophy.
Ryan, who has Asperger syndrome, attends Shadle Park High School in Spokane. He hopes to get a degree in mathematics with a focus on engineering of some sort. He enjoys designing and building complicated machinery in Minecraft.