MEET DO-IT SCHOLAR MARK
Mark is a senior at Ephrata High School where he is an avid football fan. The team started the season hammering AA opponents which pleased most everyone in Ephrata.
When Mark isn't cheering successful touchdowns he works at astronomy, abstract concepts and chemistry. Astronomy is a favorite subject.
During the summer program, Mark particularly enjoyed a lecture presented by former astronaut Pinky Nelson. Dr. Nelson is a faculty member at the University of Washington in the Astronomy Department and a former shuttle astronaut. Mark wrote an article about the lecture for the September issue of DO-IT News.
This summer Mark also watched his first meteor display when he traveled to North Bend to view the Perseid Meteor Shower. Although the sky didn't light up like a fireworks show, he did see about 12 bursts of light--four of them spectacular in color and intensity.
Next spring, Mark is planning to visit the UW observatory near Ellensburg. During the overnight visit he will tour the facility and use some of the specialized equipment. He hopes to learn more about how professional astronomers do their work.
MEET DO-IT MENTOR KEVIN BERG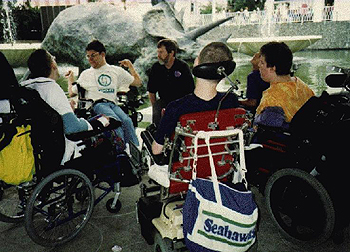 Mentor Kevin Berg (wearing the DO-IT t-shirt) and his father talk with DO-IT Scholars at the Pacific Science Center.
Kevin, a sophomore at Seattle Pacific University, is one of the founding Mentors for the DO-IT program. He uses electronic-mail to communicate with DO-IT Scholars, staff members and other Mentors. As our roving reporter, he also wrote about Stephen Hawking's visit. Via the Internet, Kevin graciously submitted tidbits of information about himself to share in this newsletter.
Kevin, who has cerebral palsy, was schooled at home until the 5th grade when he started public school part-time, participating full-time by 8th grade. He credits his home schooling with helping him to excel at public education where he took honors and advanced placement classes. He graduated from high school third in his class.
As an eight-year-old, computers became a primary interest when his parents bought him a Commodore 64. He graduated to a C-128 a few years later and bought a 286 PC in the 9th grade. Now he's worked up to a 486. Although a satisfied computer guru, he says, "To err is human, to really foul things up requires a computer."
Lest you think our mentor is only interested in machines, he mentions that he collects Popeye paraphernalia. His collection adds up to more than 500 different items so far.
His brush with greatness happened at the Puyallup fair when he shared the stage with Bill Cosby. We're glad he doesn't mind spending most of his time with less famous mortals.