Meet the 2010 DO-IT Scholars!
This summer DO-IT will host its eighteenth annual Summer Study program for DO-IT Scholars, providing participants the opportunity to experience life on a college campus and explore challenging academic and career fields such as those in science, engineering, and computing. Primary funding for the Scholars program is provided by the state of Washington. Additional funding for Scholar activities is provided by Microsoft, the National Science Foundation, the National Oceanic and Atmospheric Administration, and the Boeing Company. For more information about the program, visit www.washington.edu/doit/do-it-scholars.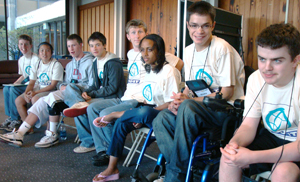 '09 Summer Study Interns talked to younger Scholars about their college plans.
Please join us in welcoming the following 2010 Scholars to DO-IT! Participants are selected from sophomore and junior applicants in high schools across Washington State.
Shawn is from Arlington. He enjoys studying math and history. Shawn, who is blind, wants to find an enjoyable career after graduating from a four-year college.
Rosa'Lea has a learning disability. Her favorite classes are art and biology. She loves art because it allows her to work with her hands. She would like to become an animator for the Walt Disney Company.
Ryan lives in Everett and enjoys exploring his creativity with ceramics and challenging himself with math and architecture problem solving. He has sickle cell disease and is excited to attend college.
Damon is a high school sophomore with dyslexia, a learning disability, and ADD. He enjoys biology and health classes, and hopes to become a marine biologist after college.
Marlise is a junior at Kamiak High School in Mukilteo. She has Friedreich's ataxia and enjoys literature, drama, and science trivia. Marlise is currently writing a play that she hopes will be published some day.
Garrett, who has amyoplasia arthrogryposis, enjoys challenging problem solving in math as well as in current world events. He plans to attend the University of Washington and study business and economics.
Angela enjoys relating what she learns from biology to her experience as a person with muscular dystrophy. She lives in Bothell. She hopes to become a medical doctor, a psychologist, or a traveling journalist.
Maximo, who has dyslexia, enjoys expressing himself through his art. He attends Vashon High School where he studies math. He would ultimately like to study architecture.
Benjy, who has a spinal cord injury, is on a wheelchair sports team in Spokane. He also keeps stats for his high school basketball team. After college, he would like to be an air traffic controller.
Eric, who has Crohn's disease, enjoys math and science classes. He hopes to get his master's degree in engineering from the University of Washington.
Nicco, who lives in Seattle, enjoys physics and learning scientific theory and is also a history buff. Nicco is visually impaired and plans to pursue college studies to become a physics or material sciences researcher.
Tatsuro, who has Duchenne muscular dystrophy, lives in Snohomish. He currently enjoys art and English. He would like to continue learning about these subjects in college and hopes to use this education to become an artist and a writer.
Niki, who is currently attending high school in Everett, plans on pursuing her interests in science and biology by studying medical research in college. She has amyoplasia arthrogryposis.
Christina is interested in the cross-cultural universal languages of math and science. She also appreciates world orchestral music and participates in her high school orchestra in Olympia. She is interested in studying dermatology in medical school due to her own experience with a skin condition.
Krysta is from Tonasket. Science and math are her favorite subjects in school. Her goal is to study biology and become a zookeeper. She is hearing impaired and started an ASL club at her school to share Deaf culture.
Jenica, who has a visual impairment, is enthusiastic about marketing, American literature, and meeting new people. She hopes to study law at the University of Washington. She is from Snohomish.