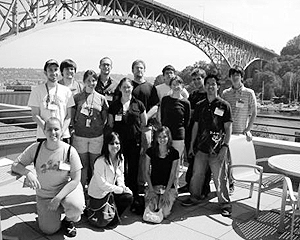 Group image of students at Summer Academy.
A large crowd of family, friends, and community members attended the Community Premiere to honor the ten students who finished the nine-week 2009 Summer Academy for Advancing Deaf and Hard of Hearing in Computing. Held at the University of Washington, this event showcased the animated films the students created. These animation shorts can be viewed at www.uw.edu/accesscomputing/dhh/academy/projects.html.
Of course at the Summer Academy it was not always nose to the grindstone working on films and attending computer programming classes. Students also went on field trips to Adobe, Google, Intel, Microsoft, and Valve, where they met employees who are deaf and hard of hearing and work in computing fields. They met the president of Valve and previewed a new game weeks before its release to the general public. Summer Academy students met guest speakers who were deaf and hard of hearing from companies including Viable Video Relay Service, CSDVRS, Oracle, Cray, Group Health, DeafCode, and IBM. The speakers discussed computing jobs and accessible workplaces. Besides academic and career preparation work, the students socialized during activities that included a Ride the Ducks boat tour and a Mariners baseball game.
Academy participants were from Alaska, Arkansas, Indiana, Maine, Maryland, Texas, Virginia, and Washington. Three were high school students, two were in college, and the rest were recent high school graduates. In addition, two students from the 2008 Summer Academy worked as animation tutors and took a more advanced computer science course than they took in 2008. A student who is deaf from Rochester Institute of Technology (RIT) was hired as a teaching assistant for computer programming courses and a resident assistant in the dorms. Additionally, Pam Siebert from IBM in Kansas City stayed for four weeks as a programmer-in-residence.
The Summer Academy has been in operation for three years. I met up with several of our graduates this summer. Updates from two of the participants are summarized below.
Jason, a 2007 Academy alumnus, completed an internship at NASA, where he worked on developing an interactive web page for the Image Science and Analysis Group at the Johnson Space Center in Texas. The web page offers scientists the ability to view images from the space shuttle and International Space Station. Image scientists analyze these images for debris from space shuttle lift-off and re-entry. Jason credits the Summer Academy for giving him a push in the right direction.
Bobby, another 2007 program alumnus, entered the RIT National Technical Institute for the Deaf and was planning to pursue a career as a math teacher then decided to major in filmmaking instead. He acknowledged that participation in the Summer Academy helped him pursue his new career goals. Of particular value was the Summer Academy animation class, including script writing, story development, lighting and shadow, pacing, and editing.
To read an article published in the Seattle Times about the Summer Academy, visit seattletimes.nwsource.com/html/education/2009555657_deafacademy28m.html