By Sheryl Burgstahler, DO-IT Director
DO-IT delivers dozens of disability-related presentations world-wide each year. Campuses, including the University of Washington (UW), typically offer disability-related content within courses sponsored by departments, colleges, and schools that include Special Education, Disability Studies, the Law School, Physical and Occupational Therapy, and Rehabilitation Engineering. But what about students who are not pursing these fields? Is there an interest in and a need for a disability-related course for these individuals? [Director Sheryl Burgstahler speaking at a podium.] Sheryl's Disability 101 seminar shares disability issues with UW students.
My colleagues and I at the DO-IT Center thought "yes!" I decided to offer the course as part of the Freshman Seminar series of CR/NC one-credit seminars at UW in the fall of 2012 and 2013.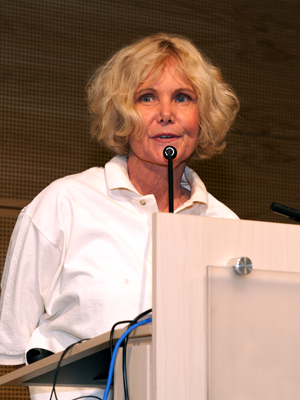 Sheryl's Disability 101 seminar shares disability issues with UW students.
Topics
The seminar addressed disability types and experiences of people with disabilities, historical perspectives, applications of universal design, assistive technology, disability as a diversity issue, civil rights and legislation, services and support for students with disabilities, and leadership and advocacy.
Student Learning Goals
The seminar promised students that by its end, they would:
be aware of the history of the treatment of people with disabilities and approaches to access, including definitions and specific applications of accommodations and universal design.
be able to describe various types of assistive technology for individuals with a variety of disabilities.
be able to describe a process for the development of assistive technology.
be able to list strategies for making programs, instructions, and services welcoming and accessible to individuals with disabilities.
be able to describe services and support for students with disabilities at the UW as well as academic programs that focus on or incorporate disability issues/perspectives.
be able to compare and contrast issues with respect to disability to those related to gender, race, ethnicity, and other minority status.
Hybrid Course Delivery
Disability 101 was offered as a hybrid course, combining class time with online activities (using a discussion board, accessing web documents and videos, etc.) through the Canvas learning management system. Students met in person for fifty minutes each week, during which my co-instructors and I answered questions, demonstrated equipment, led discussions, and facilitated panels of students with disabilities and service providers.
The students were given credit for both online participation and engagement in class sessions. They also completed two assignments: an accessibility review of a science education program or campus lab and a short essay that answered the question, "What have you learned in this seminar that you can apply in your studies, career plans, community, or other activities?"
Feedback
Responses to the course have been overwhelmingly positive. Comments made by students include:
"Prior to the class I hadn't ever thought about this world of disabilities... It wasn't that I didn't care: I just hadn't been exposed to it."
"One of the most influential and insightful connections made during the seminar was the similarity between disabilities and minorities."
"I have learned in this class that people with disabilities . . . know that it is part of them. Most aren't embarrassed so why should we feel the need to act completely different around someone who has a disability?"
"I learned the two ways of making academic activities accessible to students—accommodations and universal design. I think we should be able to provide universal design with most things these days, especially with the technological advances we have made, and therefore the need for accommodations should be reduced."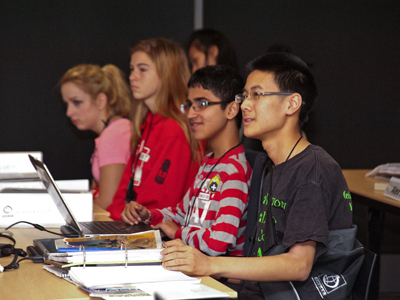 Sheryl discusses disability issues with the DO-IT Scholars at Summer Study.
"I think if more people learned about issues pertaining to disabilities, our society would be better off because people will have fully incorporated these egalitarian policies."
"Our world should be oriented to accept anyone and everyone. [We should] push for accessible publications, accessible equipment, and more accessible locations."
"Before [this class] I would not talk to people with disabilities. Now 'Excuse me, may I help you' is no longer a hard sentence for me to say."
"I intend on getting a bioengineering degree and, instead of seeing impairment as a problem that needs to be fixed, as in the medical model, I intend to approach it as something that can just be a part of a functional human being."
"As I get into the publishing world, I hope to push for my organization or company to work towards accessibility for all."
Special thanks go to those who helped deliver the course and arrange for panelists: Scott Bellman, Kayla Brown, and Dan Comden.
DO-IT NEWS, January, 2014, Volume 22, Number 1