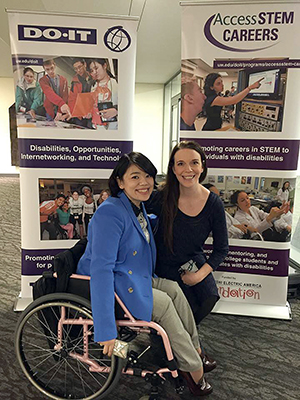 About a year ago, I attended a seminar in Tokyo and heard about DO-IT Japan and the original DO-IT Center in the United States. DO-IT, as a project that provides various opportunities for students with disabilities and promotes independence, education, and technology use, was a great place for me to visit to further my research on the topic of disability.
I first interviewed Sheryl, DO-IT founder, who was originally interested in how assistive technology could support people with disabilities to expand their abilities in education, workplace, and daily life. She wanted to reduce the gap between people with and without disabilities by utilizing her knowledge, experience as a teacher, and IT. In her work as a K-12 teacher and later at the university level, Sheryl saw the differences between the levels of education and support given—from IEP and 504 plans where students were given all of their accommodations to a college-level environment where students had to advocate for themselves.
Sheryl was often told "Students with disabilities are not prepared enough to come and study in college." This usually has less to do with their actual academic ability than their advocacy skills, inadequate accommodations, and inaccessible environments. In seeing this gap in these issues, Sheryl started DO‑IT to support students with disabilities to transition smoothly from high school to postsecondary education and careers.
The DO-IT Scholars program allows high school students with disabilities to get a real college experience on campus for two years. The students managing their meal card budgets, practice communicating with faculty, learn about accessible technology, and gain a plethora of other skills necessary for postsecondary education. "What DO‑IT does is facilitating and trying to create an environment where these positive things happen. Leadership skills don't just develop suddenly. Through these various experiences, people learn how to advocate and feel confident. I want to raise future leaders from DO-IT," Sheryl said.
One of my favorite activities during the DO-IT Scholars program was a dance party. Although this may not be a crucial skill for attending college, DO-IT wants to provide more opportunities to students who may have avoided dances at their own schools. DO-IT understands that the opportunity to develop these social skills and experiences is also very important to growing up and furthering one's education and career.
While in Seattle, I also attended a DO-IT pizza party, where DO-IT participants get together, catch up, and network about their schools and careers. DO-IT also invited parents to come to discuss and share their worries and gain information on how to best help their children. Many of the participants and parents have helped the students get into career fields or further explore their interests.
"We want to give college-bound students with disabilities the resources and skills they need to succeed at the college and career of their choice," Sheryl said. This has inspired me even more to fight for people with disabilities. No matter what kind of disability, each person has abilities and can develop those abilities. However, it really depends on the community—if people with disabilities have opportunities to challenge themselves, they can grow.
All the students and parents I have met at DO-IT were very happy because they can see a bright future. I would love to create a society where many people with disabilities can live actively and utilize their ability for what they love, like students who joined the DO-IT Scholars program.
To read Mizuki's article in full, visit her blog at moonrider7.com/en/.