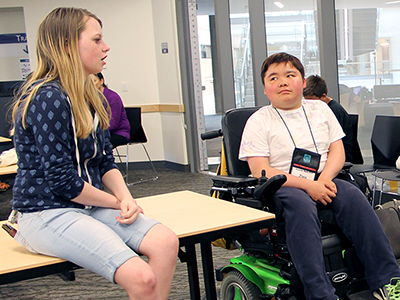 I'm a 2013 DO-IT Scholar and was a 2016 Summer Study Intern, and now I'm a freshman at Seattle University and DO-IT Ambassador. This past summer, something caught my eye on the DO-IT Chat email list. It was an internship opportunity with an organization called Rooted in Rights (RiR).
Though it has been impressed upon me how important internships are during college, I don't think that I fully understood that concept until recently. In college classes you learn information and critical thinking, but it takes stepping into the real world and having genuine experiences to know where your true strengths, weaknesses, and passions lie. When I saw the internship opportunity, I was intrigued. Before the internship, I had discovered my love for advocacy through my personal blog about blindness. RiR specializes in media and campaigning for the rights of people with disabilities.
Though I was excited to apply, I was also nervous about the possibility of being chosen for this internship. It would be my very first "real job," and I would have to balance the internship with my studies. I would be working with video editing, and though I am tech savvy, I had never worked with the specific programs that RiR uses. Just like anyone else applying for a job, I was worried about whether or not I would be chosen, and how my life would change if I were.
As a person with a disability, I had additional concerns. How would my vision affect my ability to do the job? How would I travel to work? And above all, I felt pressure personally to be an example of how successful people with disabilities can be.
Despite these worries, I went forward with the encouragement of friends and family. The application and interview process were very beneficial. Proper resume, cover letter, and professional correspondence writing are invaluable skills that I was able to refine while applying for this internship. The best way to improve your interview skills is to participate in interviews, and applying for RiR gave me that opportunity as well.
The second week of my first quarter in college, I interviewed for the position. I was called back later the same week and offered the position. Through this internship, I learned the basics of how to edit video and convert media into different formats with professional software. I also gained a host of professional skills such as working with a timekeeping system, using a large database, and email etiquette. My internship is also providing opportunities to connect with others and grow my professional network. I now have new skills and confidence that I know will take me far in the future, and I'm excited to see what else I will learn from RiR and where this internship will take me.
It's never too early to start looking for an internship. This kind of experience allows you to decide what path you want to take and provides the tools to be successful in future careers and other endeavors.