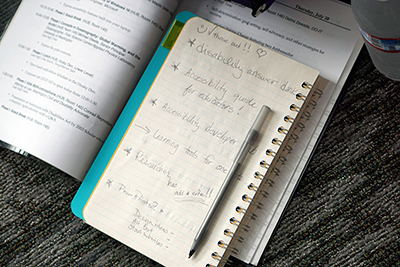 Find a time-management system that works well for you; some people like physical planners or bullet journals, while others prefer an electronic calendar or task application.
Tips and tricks college Scholars want you to know as you start your college experience.
"Join a club for something you really enjoy. Not only is joining a club a great way to meet friends who have similar interests as your own, it can also be a good resume booster—especially if you end up in a leadership position down the road. I've been a very active member of Harry Potter Club since my first week at college, and now, four years later, I'm the president. I've met most of my closest friends through the club. Plus, it gives me something to look forward to every Thursday night!" K, 2013 Scholar, University of Washington
"Attend events… the first few weeks of school to meet people and get more involved in school. There tends to be free food and gifts as well at those particular events. Always stay safe! Confide in a couple of people you trust, such as a good friend or an RA (resident advisor) and discuss how your disability affects you and what they can do to help in unexpected circumstances. For example, I have difficulty walking so I have a group of friends who always make sure I arrive home safely. I also have a surgical magnet worn within the ear, so I can't receive MRIs (magnetic resonance imaging). My friends are available to let doctors and EMTs (emergency medical technicians) know of that particular situation." Mikaela, 2014 Scholar, Washington State University
"Make sure to get a day planner and use it everyday. Also make sure you leave time to do homework everyday because you do not want to let it get stacked up. Be yourself at all times regardless of what others think, but make sure to realize people don't magically grow up and mature during the summer between senior year and freshman year. Be prepared for another year of high school but on steroids." Ryan, 2015 Scholar, Whitworth University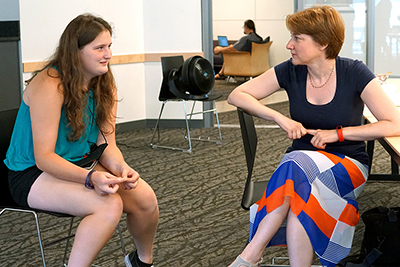 Get in the habit of talking to your professors about accommodations early, even before the quarter begins.
"See professors early for accommodations. College classes jump right into lectures, which makes it too easy to fall behind should you need something you don't have! I would want to tell incoming freshman to email teachers before classes begin every quarter to talk about your specific needs. Every one of my instructors has been very accommodating and flexible with my needs once I get in touch!" Lindsey, 2014 Scholar, University of Washington
"Get as many available resources and opportunities as you can because you will never know what greater things will happen to you. In my freshmen year, I had a lot of resources such as getting help in certain classes and being able to talk to my advisors. Even though that I have plenty of time ahead to study before my future graduation, I realized that most of the resources and opportunities didn't last as long as I expected, and I regret missing out on some experiences and the help I needed." Jin, 2014 Scholar, University of Washington
"Go to your professors' office hours! Do not be afraid to ask questions or get extra help. It will show your professor that you are eager to learn. Building a relationship with your professors can be very helpful. They are a good resource for internships, research opportunities, letters of recommendations, and even career advice." Alicia, 2012 Scholar University of Washington