First jobs can be difficult and nerve wracking. We asked Scholars the following questions and are sharing their complied experiences on how to quell first job anxieties. Some responses are edited for clarity.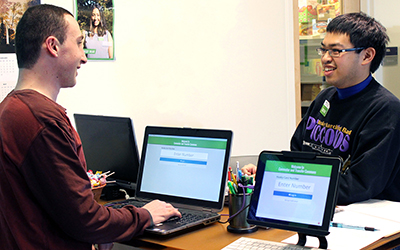 Were you nervous, and why? When did you disclose your disability, if you did? How are some of your accommodations met in the workplace, if you use any? Do you have any other advice you'd offer about finding or starting a first job?
"I haven't gotten a first job yet, though I've done some volunteering and plan on interning this summer. I tried to get an internship last summer—I interviewed with Congressman McDermott's office, but got rejected. I'm always nervous when doing face-to-face interviews, and the ones I've done are no exception. In the past I've disclosed my autism on the application form and my writing disability in the interview itself. However, I'm having an interview next week and while going to mention my writing disability, I've decided to not mention my autism at all." — Joshua, '11 Scholar
"I was extremely nervous entering the workforce, not only because it's normal to feel that way, but also because my disability complicates things. I was concerned about interviewers being unwilling or hesitant to provide accommodations or assuming I needed accommodations I didn't actually need. Sometimes people over think their interactions with folks with disabilities and get nervous themselves. It can be hard to get your foot in the door at a company if you literally can't even get your foot in the door!
"My experiences with interviews have been generally positive, but that's not to say I haven't had bumps here and there. I felt most comfortable disclosing my disability upon the invitation to interview. I don't have much of a choice in disclosing, since I use a wheelchair. I need to make sure they are accessible before I commit to an interview. I also feel that if I showed up without giving someone notice, the interviewer can often be flustered and make the experience awkward.
"To lesson your anxiety, learn how to articulate your needs clearly. I always make a point to say that I know how to advocate for myself, and if I ever have needs related to my disability I would let them know. Make your disability a positive. Don't say you can't do something. Instead say that you can do something with accommodations." — Kayla, '05 Scholar
"My very first job was working on an organic farm that specifically hired people with disabilities. They had me and the rest of the group get the farm ready for spring. They required a lot of hard labor, such as digging. I rationalized that the job requirements were not very appropriate for me due to my physical disability. I had the opportunity to continue the job through the summer months, and I respectfully declined. It was complicated to have accommodations on a farm because of the outdoor setting and what is needed to keep the farm going.
My second job, at the Office of Public Safety at Saint Martin's University, was a much more appropriate fit for me. It didn't require the same type of manual labor as I was working on a computer in an office." — Blake, '07 Scholar
"My disability is mobility related, so, depending on the job, I usually disclose either right before an interview (if I'm worried about accessibility), or they figure it out at the interview. My current job came from an internship, which I know can be hard—especially if you require some specialized accommodations that take time to figure out. But if you can swing it, I recommend trying to do as many internships as you can. It gives the employer a chance to see you at work, adds to your resume, and can possibly even lead to a job. It's not fair, but you are going to need to have more experience and references than your peers. Work on getting those throughout college because many internships require you to be a college student. As for accommodations—be very honest about what you need. Don't try to just make it work if it's going to make your work suffer. It might be helpful to also find an ally, whether it's a boss, co-worker, or HR person who can help you fight those battles. I had an awesome boss when I first started who totally went to bat for me in the beginning and has become a lifelong friend." — Shelby, '09 Scholar
"Always be open to less conventional opportunities. Becoming an entrepreneur can sometimes be the best way to ensure that your unique talents are fully utilized and appreciated." — Conrad, '03 Scholar
"I think it's healthy to be a little nervous. I personally like to wait until the interview to disclose my disability, that way if it comes up I can address concerns face to face." — Nolan, '12 Scholar