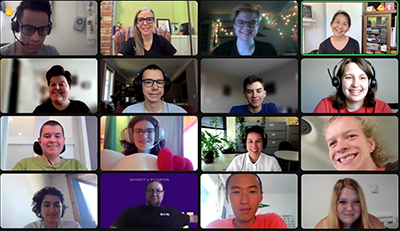 This summer DO-IT will host its thirtieth annual Summer Study program for DO‑IT Scholars, which again will be hosted online. So many things have continued to be different in the last year, continually changing, and though we have all been challenged, we have found many benefits to this growth in our online programs and abilities to connect with those across wider distances. Even though the delivery of our DO-IT Summer Study has been modified to make sure we are as inclusive and safe as possible, the main purpose of our program has not changed: DO-IT provides participants with opportunities to learn about postsecondary education, life on a college campus, challenging academic and career fields, networking, and technology, and we have fun along the way!
Primary funding for the Scholars program is provided by Washington State.
I am pleased to introduce to you the 2022 Scholars:
Alexis attends Richland High School and will be participating in the Tri-Tech Veterinary program in the fall. She enjoys hanging out with her friends and writing. She has ADHD.
Arun attends Nova High School in Seattle. He enjoys programming, writing, math, and visual arts. He is disabled.
Ashley is a rising junior in Snohomish County, Washington and enjoys music, art, sports, and English. She is looking forward to studying in college and seeing where her aptitudes and abilities take her as she meets the challenges of having cerebral palsy due to an early birth.
Bella attends Ellensburg High School. She enjoys hanging out with her pets including a cat, dog, rabbit, lizard, goat, and duck. Her favorite subjects are math and Spanish. She has a learning disability.
Cameron attends Auburn Riverside High School where he enjoys studying electronics and computers. He has autism.
Chris attends Academy for Precision Learning in Seattle and will be a senior in the fall. He has autism, ADHD, and a learning disability. Chris is volunteering at the Museum of Flight this summer as a pavilion ambassador. He enjoys playing the piano and saxophone, and he loves sports.
Cosey Mo went to Port Townsend High School but recently moved to Port Angeles. She looks forward to joining the rowing club at her new school. She enjoys playing soccer, sewing, drawing fashion outfits, and walking with her dog Elwood. She has a learning disability and narcolepsy.
Ethan attends Battle Ground High School. He has ADHD. He enjoys music, puzzles, and building computers. He is also secretly three kick drums in a trench coat.
Francine has attended school in Washington for over 10 years including Shelton High School. She enjoys singing, swimming, dancing, bowling, and spending time with friends. She has autism.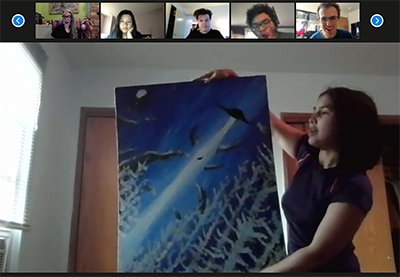 Hannah attends Lakeside High School in Nine Mile Falls. She has autism. She enjoys creative writing and drama club. She hopes to write novels.
Jordan attends school in Washington State where he enjoys studying aerospace engineering and science. He plans on going to college to study these topics.
Kimo attends Lakes High School and hopes to study painting and engineering in college. Kimo enjoys drawing, painting, reading, and exercising. Kimo has autism.
Maddie attends Richland High School. She has ADHD, autism, and cerebral palsy. She enjoys piano, swimming, and crochet. She hopes to pursue a STEM field in college.
Malik attends school in Washington state. He enjoys biking, watching videos, playing with his dog. He plans to pursue a career in writing. He has disabilities.
Mark attends Richland High School. He has cerebral palsy, learning disabilities, ADHD, and autism. He hopes to be a history teacher or study medicine. He enjoys playing video games and swimming.
Oliver attends Juanita High School where he enjoys studying English and history. He enjoys piano, cooking, and listening to music. He has ADHD.
Oscar attends Issaquah High School. He has bilateral hearing loss. He enjoys running, biking, and learning new things. He would like to pursue a career in either astronomy or medicine. He loves geography too.
Sage attends Roosevelt High School. She enjoys cooking, art, hanging out with friends, and playing a variety of sports, including basketball, soccer, baseball, and tennis.