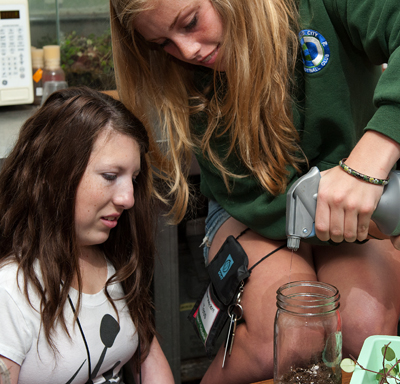 This summer DO-IT will host its 20th annual Summer Study program for DO-IT Scholars, providing participants with the opportunity to experience life on a college campus and explore challenging academic and career fields such as those in science, engineering, and computing. Primary funding for the Scholars program is provided by Washington State. Additional funding for Scholar activities is provided by Microsoft, the National Science Foundation, the National Oceanic and Atmospheric Administration, and the Boeing Company. For more information about the program, visit www.washington.edu/doit/do-it-scholars.
Please join us in welcoming the following 2012 Scholars to DO-IT! Participants are selected from sophomore and junior applicants in high schools across Washington State.
Mikayla is a sophomore at Lynnwood High School and enjoys studying math and sports medicine. Her goal is to become a pediatrician. She is involved in FIRST Robotics and was presented the "Star of the Day" award at last year's regional competition for her work as the safety lead.
Hannah is legally blind in her right eye and is from Marysville. She is a sophomore and loves learning about history and excels in math. She is a member of the Key Club and next year will be in Running Start. Basketball is a passion of hers and she would eventually like to pursue a career in physical therapy or sports medicine.
Peter is a sophomore from Woodinville. He has autism and is enthusiastic about his science and math classes. He hopes to apply math to the field of environmental science. He is a member of the Environmental Club and the Math Team at his high school. Ultimately, he wants everyone to work together to save planet Earth.
Jennifer has spastic cerebral palsy. She enjoys history, but especially likes English assignments where she can express her ideas. Not surprisingly, she excels in creative writing. Jennifer hopes to become a broadcast journalist.
Aaliyah is deaf. As a junior, she enjoys history and physical education. With her interest in both children and animals, she would someday like to work in a daycare or zoo. In the Miss Teen Washington Pageant she won "Most Spirited" award.
Lucas is a freshman and enjoys studying math and science. His goal is to eventually attend medical school to pursue studies in anesthesiology. He has a hearing impairment and Goldenhar's syndrome.
Cody, a sophomore, is enthusiastic about history and science. In the future, he would like to attend college to pursue a career in technology. He has cerebral palsy.
Lindsay enjoys writing because it helps her communicate and express her ideas. She would like to become an author or a technical writer. Her favorite classes are English and environmental science. She is currently a junior at Skyline High School in Sammamish and has Asperger's syndrome.
Eric is a high school junior from Everett. His favorite classes are journalism and French because he loves writing and learning new languages. He has a learning disability and in college would like to study forensic science in order to become a crime scene investigator.
Colton has muscular dystrophy and likes learning about history and math, especially when he finds solutions to problems. He is a junior and would like to enter a career in digital forensics or criminal justice.
Alexander, a sophomore, enjoys learning American sign language, English, and history. His passion is in the performing arts and he aims to attend college to develop his skills in theater. He has cerebral palsy.
Jessica is a sophomore from Snohomish. English, Spanish, digital arts, and history are her favorite classes. Ultimately, she wants a career that allows her to do what she loves and to help people. She has spinal muscular atrophy.
Dominique comes from North Bend. She has a form of dwarfism called Kniest syndrome. English is one of her favorite classes, and she also loves the hands-on aspect of her science class. She would like to study 2D animation and work for the Walt Disney Company.
Allison is a junior and has thrombocytopenia absent radius syndrome. She enjoys drafting, art, and woodshop, because they are hands-on, which helps her learn faster. For her career she would like to be an interior designer, architect, or an artist.
Alicia is interested in many academic areas, but has a lot of fun studying science and math. She has been very successful in her involvement with the Deaf Academic Bowl at her high school. She currently plans to attend medical school to become an ER doctor.
Grace is a sophomore and has bilateral deafness. Her favorite classes are math and science because she enjoys problem-solving and experimenting. Currently, she would like to major in science, physics, or math and pursue a career in pharmacy.