Brain Awareness Week Open House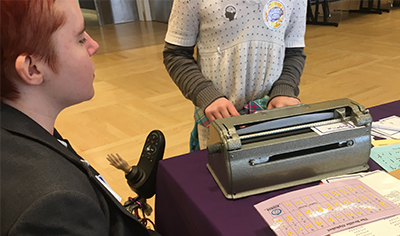 In March, DO-IT participated in Brain Awareness Week at the University of Washington. Brain Awareness Week is a nationwide effort organized by the Dana Alliance for Brain Initiatives and the Society for Neuroscience to promote the benefits of brain research. DO-IT hosts a booth for this event every year because we believe that promoting the inclusion for people with disabilities in STEM is important to talk about at outreach events.
Our interactive booth allowed K-12 students to learn about how students with disabilities engage in science. We showed off a braille type-writer for kids to learn about braille, and other resources for students with disabilities who are interested in STEM. Our main goal is to show them that researchers and scientists can have disabilities; they can DO-IT!