Courage at Camp Courage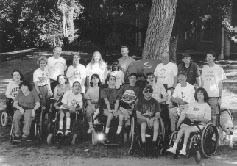 Camp Courage campers and staff
Kris, DO-IT Ambassador and staff member, and Rick Light, high school teacher from Wisconsin, took a big, bold, brave move into the world of new technology by establishing a satellite link to our Camp Courage Internet and College Preview program at Camp Courage, MN.
Although I worked mainly on the program planning and instructional side (someone, after all, has to figure out what we are going to actually DO with this stuff), I was dazzled by the new, fast connection. Congratulations, Kris and Rick. We have moved a long way from a cramped computer lab within a cabin lounge, to a large, separate computer lab with a satellite dish attached to a tree just outside the door! Besides the three of us, DO-IT Pal and college student Tracy Schraam, college student Chris Peterson and DO-IT Mentor Bill Taylor helped with the program. One of our activities at Camp Courage was a panel of college students who shared their success stories in transitioning to college. Here is a summary of the advice they gave to the younger Courage Campers who are planning to go to college.
Plan early.
Apply to several places.
Think through what you want to do and what you need.
Tour schools of interest and then take a thorough campus tour of the school you end up enrolling in.
Talk to your high school advisors.
Ask lots of questions.
Try to meet students with similar disabilities as yours.
Talk to staff at the Disabled Students Services Office BEFORE you apply and then after you are accepted and plan to attend.
Talk with your professors before classes start.
Do volunteer work in your areas of interest.
Get involved in campus activities.
Set a course for yourself but be open to changing your direction.
Consider different living options - dorm, apartment, home.
Organize a study group (about 4-6 people).
Try not to get discouraged by academic setbacks. Keep a good attitude.
Have fun, too!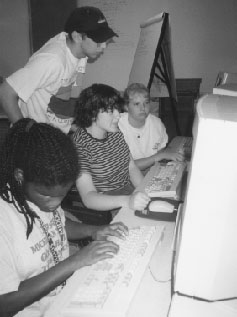 Kris and students at Camp Courage
A good time was had by all. Here is a report from one of our campers:
Hi! I'm Lindsay. I would like to tell you about Camp Courage, a camp that I've been coming to for many years. Camp Courage is a camp for people with all types of disabilities from age 7 to adulthood. This year's "Teen Camp" was held July 10-19, in Maple Lake, MN.
I attended the Computer/College Preview Camp, co-sponsored by DO-IT and Camp Courage as part of Teen Camp. In this program we focus on preparing for college and learning more about computers and the adaptive technology that is out there for people with disabilities. This includes touring a college and learning more about e-mail and the Internet.
What I like best about this particular session is that it gets you excited about college and learning about technology, but at the same time, you can do things like tubing, horseback riding, swimming, Courage Stock and the other evening programs. I learned about what life is like in college for people with disabilities. Some of my fellow campers said:
"It was fun learning about the variety of ways I can learn on the computer."
"Computer camp is wonderful to have here."
"I liked downloading Titanic music on the Internet."
"I took myself to the next level by learning basic computer programming."
"I liked it!"
One of the staff members ended the session by saying, "I'm exhausted! I want to go to sleep."