December 2016 AccessComputing Capacity Building Institute (AccessComputing News January 2017)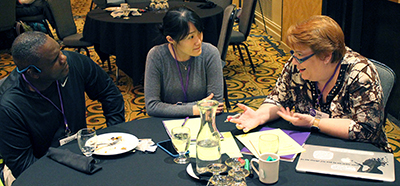 In December 2016 AccessComputing held a Capacity Building Institute (CBI) with a focus on making classes, departments, and organizations more welcoming and accessible to students with disabilities and encouraging educators to include accessibility in the computing curriculum. This CBI was a hands-on, project-oriented workshop, where participants created resources to be used in their own classes and shared widely.
Attendees included computing faculty members and graduate students, computing students and professionals with disabilities, disability services professionals, and industry professionals from across the country. Sessions shared information on broader subjects such as accommodations and universal design, IT accessibility, and the experiences of individuals with disabilities; presentations also shared specific outreach activities, strategies for making courses welcoming, and methods for teaching accessibility.
The CBI also facilitated a space for discussion among participants. Through discussing topics such as challenges in increasing the participation of students with disabilities in computing and strategies to increase accessibility content in computing curriculum, participants were able to make tangible plans they can implement at their own institutions. To learn more, view the proceedings when they are released.