Director's Digressions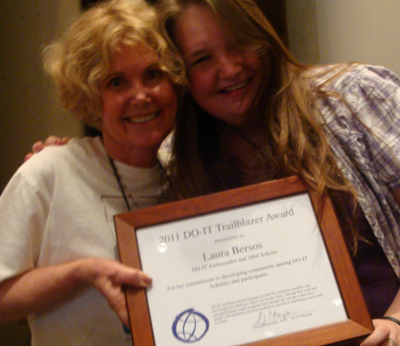 DO-IT Trailblazer Awards highlight DO-IT community members who forge new pathways that will benefit others. We select individuals who, through their work and accomplishments, have changed the way the world views people with disabilities and have increased their potential to succeed in college, careers, and community life. Congratulations to this year's honorees!
Laura Bersos, DO-IT Ambassador and '04 Scholar, was awarded the Trailblazer Award for her work developing community among DO-IT Scholars and participants. Laura has attended Summer Study activities every year since she became involved with DO-IT and helps new Scholars feel welcome.
Kayla Brown, DO-IT Ambassador, '05 Scholar, and DO-IT student staff member, has been involved in advocacy work at Bellevue College. She advocates for the rights of people with disabilities in Seattle and has traveled to New Orleans to help rebuild the city after Hurricane Katrina. Kayla has participated in City Year where she worked with teenage students, and has served on the A-Team leadership group for DO-IT's AccessSTEM project.
E.A. Draffin, research staff in the University of Southampton's School of Electronics and Computer Science in the United Kingdom, is a Trailblazer for promoting accessibility in e-learning, the web, and mobile devices; providing an international database of accessible technology; and supporting students with disabilities through her efforts to increase accessibility in education, employment, and daily life.