Director's Digressions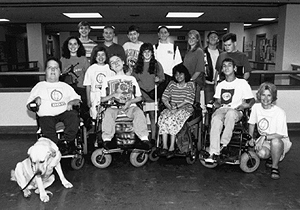 Picture of 1995 Phase III Scholars
The DO-IT Scholars successfully transitioned to new phases of the program after completion of their on-campus summer programs in August of 1994. The Phase I program took place August 7 through 19; Phase II was August 14 through 19.
During the summer program, some of the Phase IIs were assistants for the new Phase I program. For some this was their first job experience. Duties included retrieving and preparing break time snacks, cleaning up after the Phase Is, coming up with fun evening activities, and making sure the Phase Is got to bed on time. They were introduced to the real world of work, including the cold reality that sometimes you have tasks to complete when you'd rather be doing something else.
Work was not the only thing the volunteering Phase II Scholars got to do. After the first week, they were joined by remaining Phase IIs for one week of their own program. Instead of having their interest piqued in several subjects, the Phase IIs had a one week overview of one topic. The four study groups were Computer Science, Information Systems, Paleontology, and Genetics.
In the continuation of the Scholars' education, the Phase II Summer Study focuses on a specific area of study, giving Scholars a taste of what they have to look forward to when they enter college studies and ultimately the job market. The DO-IT program assists its Scholars in realizing a successful future.
Four Phase II Scholars, who are part of our first group of Scholars, graduated after their second Summer Study to the level of DO-IT Ambassadors. DO-IT Ambassadors are former Scholars who have graduated from high school and elect to take on a more assistive role with the DO-IT program. They mentor, volunteer their time to teach a younger student about the Internet or computing, or take on other DO-IT projects.
DO-IT is actively recruiting a new group of Phase I Scholars, perhaps you or someone you know would like to join DO-IT.