Director's Digressions
Meet the 2009 Scholars
This summer DO-IT will host its annual Summer Study program for DO-IT Scholars. Primary funding for the DO-IT Scholars program is provided by the State of Washington. Additional funding for Scholar activities is provided by the Microsoft Corporation, the National Science Foundation, and the Boeing Company. For information about the DO-IT Scholars program, consult www.washington.edu/doit/do-it-scholars.
We welcome the following '09 Scholars to DO-IT! All are residents of Washington and most will be sophomores or juniors in high school this fall.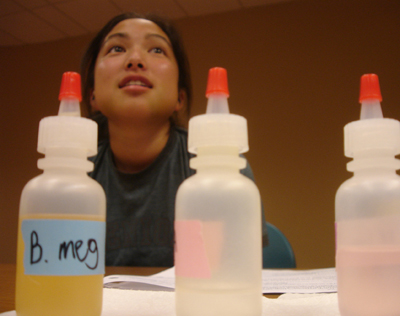 Phase II Scholar Robyn learns about science in a hands-on lab class at Summer Study 2008.

Vanessa, who has cerebral palsy, lives in Yakima. Her goal is to be a medical transcriptionist, librarian, writer, and full time minister of Jehovah's Witnesses. She enjoys advanced placement English and algebra.
Bilal lives in Lynnwood and has a learning disability. He enjoys playing basketball, studying math and English, and learning new things. Bilal would like to be an aerospace engineer.
Reese lives in Mill Creek. He has orthographic dysgraphia as well as binocular, accommodative, and oculomotor dysfunction. His favorite classes are world history and science. He would like to study political science in college and possibly become a political talk show host or actor.
Anna lives in Shoreline. She is partially blind and has a brain tumor. She loves math and science. After earning her degree, she would like to work with children with disabilities.
Ryan has autism. His favorite subjects are math, science, and music. He is a drummer and would like to perform in a group that travels the world. He is also interested in sound engineering, running his own airline, and politics. He lives in Sultan.
Louis' favorite academic courses are science and English. His career interests include shellfish farming, biology, and structural engineering. He has a learning disability and lives in Port Townsend.
Shelby lives in Marysville. She has spinal muscular atrophy. She enjoys studying English and French. She would like to earn a degree and work either in the fashion industry or as a counselor.
Allegra would like to study creative writing and computer technology so she can write novels and be financially stable. She has spinal muscular atrophy II and lives in Seattle.
Sean is interested in United States history and computing. He has muscular dystrophy and lives in Renton. Sean would like to pursue a career in software engineering.
Leonardo lives in Oak Harbor. His favorite classes are English and math. He would like to earn a degree and work in the computer field.
Josh, who has muscular dystrophy, lives in Elma. He enjoys Spanish and world history. He would like to study engineering in college.
Joshua lives in Vancouver. He has spina bifida. His favorite courses are science and English. He would like to become a youth pastor or counselor.
Kristin lives in Bellingham. She has dyslexia and an auditory processing disability. Her favorite classes are advanced placement world history and chemistry. She would like to earn a degree in archeology and travel to foreign countries on digs.
Katelyn has diplegic cerebral palsy and lives in Richland. She enjoys hockey. American literature and psychology are her favorite classes. Katelyn would like to become a professional photographer and share her unique perspective of the world with others.
Alex is from Anacortes. His favorite classes are history and metal technology. He has cerebral palsy and someday hopes to become an airline pilot or work in law enforcement.
Joseph, who has Asperger's syndrome, lives in Des Moines. He hopes to extend his hobby of tinkering with computers into a future career in IT. His two favorite classes are science and history.
Abby, who is blind, lives in Seattle. Her favorite academic courses are French and math. She would like to study information technology.
Chris has attention deficit disorder and dyslexia. He lives in Vancouver. His favorite subjects are science and history and he would like to work in the medical field.