Director's Digressions
Meet the year 2000 Scholars!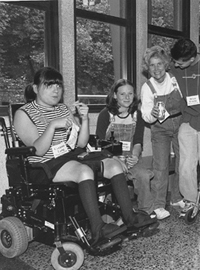 Sheryl shares a light moment with new Scholars Corinna, Jaime, and Brian.
In August we conducted our eighth annual DO-IT Summer Study program for high school students with disabilities. Twenty new DO-IT Scholars were funded by the State of Washington, and one Scholar, Nora, from Oregon was funded by the Samuel S. Johnson Foundation.
Nora, who has cerebral palsy, is from Oregon and enjoys studying English and foreign languages, especially Spanish. Her career goal is to "work in foreign language as an interpreter." Nora competes in skiing, swimming, and track for Special Olympics and was selected as the 1998 Blue Mountain Special Olympics Athlete of the Year.
Tasha lives in Seattle and enjoys studying math and the language arts. Tasha's educational goal is to move on to college to become a lawyer. She looks forward to learning more about computers and meeting other kids with disabilities (she has cerebral palsy) and is also enthusiastic about helping others.
Jeffrey, who has a hearing impairment, "strives to challenge himself." He enjoys both science and math and believes these subjects will enable him to reach his career goal of becoming an electrical or mechanical engineer. Jeffrey hails from Auburn.
Ryan, who comes to us from Bonney Lake, uses his computer for "homework, meeting people, and, of course, getting video games." He is part of the Computer Trouble Shooter team for his school. Ryan, who has cerebral Palsy, plans on a career in computer science.
Raleigh is from Spokane. He participates in athletics and the Associated Student Body. Raleigh, who has a learning disability, likes experimenting in his science class and learning about the history of our country in social studies. Raleigh is focused on succeeding in both school and "life."
Israel is from Rock Island. His dream is to become a computer programmer. Blindness doesn't slow him down in pursuing his interests in mathematics and music. Israel believes "technology is opening the door" to his education.
Brian's goal is to attend college in Japan and get his Masters degree in international business and foreign languages. Brian also enjoys history and is active in athletics and the community. Brian, who has a health impairment and comes from Bothell, "brings great tenacity to his studies."
Benjamin is a problem solver from Aberdeen. He enjoys physics because it "involves problem solving using formulas and putting the pieces of a puzzle together to obtain a final solution." Benjamin, who has a learning disability, has set his sights on attending college and studying law. He believes college will be "a life changing experience."
Jaime is the scorekeeper for both the basketball and volleyball teams at her high school in Lind. Jaime, who has cerebral palsy, wants to attend Washington State University and study neonatal nursing or physical therapy.
Brooke is from Seattle and is interested in history, chemistry, and architecture. Meeting the challenges of a specific learning disability, Brooke dreams of designing a building, "just something so that at the end of my life I can say that I made it."
Andrea's interests range from math to the performing arts and music. Andrea, who has a mobility impairment, is from Pasco. She has received academic awards over the years and desires to attend college, possibly in a foreign country. "I would like to travel and learn foreign languages and try new foods and activities."
Corinna hails from Everett and is "always willing to join in class discussions." Corinna, who has cerebral palsy, is interested in psychology, especially child psychology, and loves working and interacting with others.
Kasey, from Aberdeen, is not only successful in football, basketball, and tennis, but also in the classroom. Kasey's favorite subjects in school include history and English. Kasey has a specific learning disability and strives "to be more independent in school" by using technology and other tools.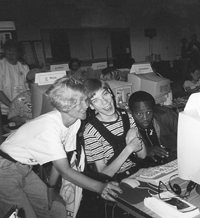 Director Sheryl Burgstahler and Scholars Nick and Raleigh surf the Web during Summer Study 2000.
Deke's career goal is "to become a computer teacher in a high school setting." Deke hails from Chelan and has Aphasia. He has used a computer since he was 3 years old, has been on the honor roll for four years, and participates in track, basketball, and cross country.
Stephanie "is curious about many things but is especially interested in math." Stephanie hails from Spokane and is legally blind. Besides achieving the honor roll and student of the month award, Stephanie actively participates in the classroom. As one of her teachers puts it, "Stephanie is not a wallflower in groups."
Nathan, who has a specific learning disability, is from Edmonds. He enjoys "the structural aspect of rocks, dirt, and soil in geography." Nathan's other academic interests include engineering and physics. Nathan uses the World Wide Web for homework and playing games.
Nick "loves to eat all kinds of food," and hopes to translate that interest into studying food science and then entering the hotel/restaurant/resort services industry. In his spare time, Nick, who lives in Redmond, enjoys watching the Mariners, reading Spencer mystery books and playing with his pet hedgehog. Cerebral palsy hasn't interfered with his ability to shoot pool and bowl.
Noemi has cerebral palsy and hails from Sunnyside. According to one of her teachers, Noemi is a "people person and enjoys working in groups." Noemi is interested in becoming an educator and finds her history and ESL (English as a Second Language) classes to be very interesting.
Crystal hails from Rosalia. Her favorite academic courses include science and English. Crystal's hearing impairment has motivated her to become a sign language teacher in order to help other children with disabilities feel that they are "people too, who deserve to be loved and accepted."
Susanna enjoys how her science and math classes expand her level of thinking. Susanna, who hails from Spokane, is interested in marine biology and law, especially the ADA (Americans with Disabilities Act). She has cerebral palsy.
Gretchen comes to us from Bellingham. She believes her favorite subject, science, answers her questions about the world around her. Gretchen, who has a hearing impairment, programs computers in her spare time. She plans on studying education and sports medicine in college.