Director's Digressions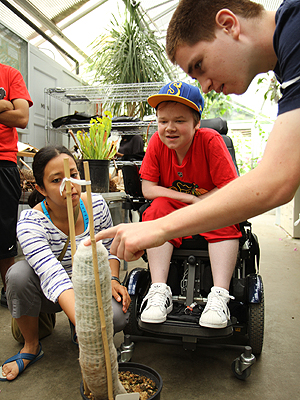 Phase I Scholars Carl and Eric take a closer look at a cactus in the UW Botany Greenhouse during Summer Study 2014.
Forty-four DO-IT Scholars and Ambassadors participated in activities during the 22nd annual DO-IT Scholars Summer Study program in July at the University of Washington (UW). This program has helped launch the careers of hundreds of students with a wide range of disabilities. The participants also have fun and form friendships that will last for years to come.
Each year, I ask Phase I Scholars to share what they've learned in Summer Study. Their responses this year are summarized below:
Disclosing your disability doesn't keep people from wanting to be friends with you.
I learned the importance of connections and networking.
People with disabilities are like everyone else.
I learned more about my specific disability, and about other kinds of disabilities—some I hadn't even heard of.
People with disabilities are not impaired; they just need to take a different path.
Just because you have a disability doesn't mean you have to be the odd man out; you can go to college and have a career.
I learned how to use accessible technology, how to create a website, and how to keep my computer safe from viruses.
I learned it's okay to ask for help.