Director's Digressions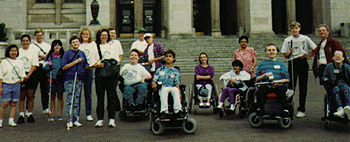 DO-IT Scholars discover Suzzallo Library on a tour of the University of Washington campus.
Most of our 1995 Scholars have been selected. Let me introduce them to you. Bror comes to us from Lenore, Idaho. His learning disability certainly doesn't affect his love of science, "especially . . . energy and mechanical things."
Andrew joins Shane (A Scholar who began in '93) to give us two DO-IT representatives from Montana (so far). Mr. Cassidy currently wants to become a draftsman. He's hoping to learn how to use a CAD (computer aided drafting) program since he has very limited use of his hands due to having Duchenne's muscular dystrophy. One of the things he is most looking forward to is meeting other students with disabilities through his contact with DO-IT!
Shawn, a self-proclaimed Husky fan, comes to us from Pullman, Washington. If any of you need to have your checkbooks balanced, this is the man to contact! He is looking to ready himself for meeting the challenges of being a college student with quadriplegia. Shawn is another welcome addition to the group.
Matt wants to become an electrical engineer. He's also interested in meeting other students with disabilities (he has a hearing impairment) and is excited about communicating with other people on the Internet.
"Most Inspirational" is how Jeremy school defines this tough young man. After sustaining a serious closed head injury, Jeremy has had the challenge of relearning everything. His current interest is to explore architecture and all the resources that the University of Washington and DO-IT have to offer.
Looks like we have a math whiz on our hands! Although a Junior at Hood River High School in Oregon, Carly is the same age as sophomores because she skipped second grade. She has used computers "as long as [she] remembers" and though she may need some assistance (she has arthrogryposis multiplex-congenita like DO-IT news editor and Ambassador Rodney) stand back and make way!
Bridget has been "hooked on science" since the sixth grade. If you want to get into dissection, she's the one to contact! Her hearing impairment presents some challenges in communication so she's looking forward to meeting people who can share experiences with her and help with her career decisions.
Bill has earned many awards in his brief high school career. As a member of the Gorilla Foundation he feeds his intense curiosity about gorillas, apes and other animals by reading everything he can get his hands on. He is looking forward to discovering more efficient ways to access his computer system (he has Cerebral Palsy) and exploring computer resources.
"Top ten percent," "Best student of the semester," "honor" are among the phrases his high school uses to describe Todd. He is interested in the brain, body and mathematics. He dreams of becoming a psychologist and is interested in learning from and about other people with disabilities. He is quadriplegic.
A strong interest in science and helping people combine to make Rachel a much wanted member of DO-IT. Her current interests in the sciences stem in part from the fact that she has renal failure. She's hoping to work with children and teens with disabilities (she has a hearing impairment as well) and wants to learn from them while they learn from her.
Straight from North Dakota, Jesse says he has been working with computers since the fourth grade. Legally blind, he finds computers and other technologies very useful. He has earned blue, red and white ribbons for his woodwork and plans to major in computer programming.
Because she is from a small (and I do mean small!) town in Idaho, Jorja hasn't had the opportunity to meet many peers who have disabilities (she has cerebral palsy) but she's looking forward to it! She's earned awards in drama and loves geometry.
Future accountant, brain surgeon or physicist, welcome Aimee from Boise, Idaho! These interests should keep her on her toes! A diabetic herself, she is looking forward to learning more about students with physical disabilities. She joined the right program to do that!
Matthew wants to answer the BIG questions like how the earth got here and how the universe was created. His disability has a big name, epidermolysis bullosa, and he has big goals. If you're looking for the next software design engineer for Nintendo or Microsoft, you may have found your man.
"He knows more about computer hardware and software than any professional person I've met in over 27 years in the D.P. Field. He is unbelievable!" How's that for a recommendation? Meet C.J. from Olympia, Washington. This young man with Attention Deficit Disorder certainly seems to have found his niche. His computer skills will be a fine addition to the program.
On behalf of the '93 and '94 Scholars, Mentors and staff, I would like to welcome these students to the DO-IT team! For freshmen and sophomores in high school who are interested in participating in DO-IT, we're accepting applications for next year already!