Director's Digressions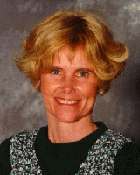 Director Sheryl Burgstahler
Congratulations '98 Scholars
Phew! The sixth annual Summer Study programs last summer were a great success. Forty high school students with disabilities from across the United States and one from Canada joined DO-IT staff, veteran Scholars, and Mentors at the University of Washington to learn about college life, technology, and career strategies. One group of twenty new Scholars was supported by our new funding source, the state of Washington. A second group of twenty, as well as Phase II returning Scholars, were supported by our last year of DO-IT Extension funding from the National Science Foundation. We're sad to report that, unless a funding source is located, the 1998 Scholars will be the last group of students recruited from around the country, but happy to report that Washington will continue to support Scholars in that state. I introduced you to some of the '98 Scholars in the July 1998 issue of DO-IT News. Here are the rest of them.
Katrina hails from Kenmore, Washington and is interested in art, history, and science. Katrina has a brain injury. "I process information slowly, however, I can assimilate and retain new material."
Eddie is interested in "how things work and likes to figure out how to do things." Eddie set his sights on becoming an engineer or an architect. Eddie has a learning disability and enjoyed meeting others with LD, sharing ideas about how to improve their reading and strategies for success. Eddie is from Spokane, Washington.
Matt "loves to correspond with others and learn from others." He joins us from Oroville, Washington where he enjoys solving algebra problems and won a letter in the Knowledge Bowl. His goal is to be a programmer. "Having a computer and Internet access has been really great because I write really slow, but I can type really fast." Matt's disability is spinal muscular atrophy.
Chris is from Redmond, Washington and has as a career goal to work as a scientist for NASA. He also enjoys "chatting, hanging out with friends, playing pool, and cracking jokes." Chris has dyslexia, ADD, and dysgraphia.
Chanon, who joins us from Neenah, Wisconsin, has cerebral palsy. Her interests include the study of living organisms. "I am intrigued on how they run their course in life." She plans to attend a home-state university and major in psychology.
Marissa lives in Des Moines, Washington and plans to become a computer programmer and writer. Marissa has cerebral palsy. She is a motivated student who has won the President's Award and an Honor's Award and loves to e-mail new friends in DO-IT.
Crystal lives in Portland, Oregon. Problem solving is her passion. Math is one of her favorite subjects. Crystal, who has a visual impairment, hopes to one day graduate from college and become a lawyer or a counselor. "Either way, I'll be making a difference in people's lives and that's what I want to do."
Justin lives in Woodinville, Washington. He has cerebral palsy and uses adaptive technology to do his school work on a computer. Justin wants to be a computer programmer for Microsoft. "I feel great about meeting other people with disabilities and corresponding with other people because I want to know what is out there for handicapped people."
John-Paul is from Clarkston, Washington and would like to go to college to study engineering or architecture. John, who has spina bifida, says "I think that the DO-IT program is a good opportunity to meet other people who are headed in the same direction in life and who face similar challenges because of a disability."
Reginald, from Albany, Georgia is an experienced computer user, but loves to learn about advanced applications. Reginald, who has ADHD, enjoys meeting new people and experiencing college life through DO-IT. He plans to become a physical or occupational therapist.
Khrystal joins us from Spokane, Washington. She has a specific learning disability and math is her favorite subject. One of her goals is to be the first in her family to attend college. In DO-IT she has met new people her age that have similar interests.
Michael, from Alberta, Canada, is our first international Scholar. His disabilities are LD, ADHD, neuromotor deficits, and Dysgraphia. Michael is an honors student and enjoys participating in science fairs, volunteering in his community, and working with computers. His career goal is to be a pediatric psychiatrist.
Silas, from LaConner, Washington, would someday like to program or design computer games. Silas, who is visually impaired, is a motivated student. Through the DO-IT program, he is learning "how others with similar disabilities cope and adapt" and "about new hardware, software, and adaptations for the vision impaired."
Jessie lives in Seattle, Washington and has aspirations to go to college and study science or medicine. "Science is a puzzle. I like to see the outcome of a problem or experiment." Jessie has dyslexia and ADD and is active in sports; she received a varsity letter in cross-country. She also enjoys dancing, classical ballet, and skiing.
Todd is from Bothell, Washington and would like to attend the University of Washington when he completes high school. He wants to either write music or program computer games. Todd has ADD and excels in math, science, and music. He is excited to learn more about computer technology through DO-IT and to hang out on the UW campus.
Arnell comes to us from Port Orchard, Washington. Arnell enjoys inventing and creating things with his hands. He has ADHD and speech-communication problems. "The computer and the Internet help me to do schoolwork." In DO-IT, he has made new friends and learned more about the Internet.
Nichole lives in Sumner, Washington and is an honor student at her high school. She enjoys astronomy, math, and art. Nichole, who uses a wheelchair, wants to be an attorney or a scientist one day. "The DO-IT program will help to give me physical independence and college experience."
Lindsay is from Spokane, Washington. She loves animals and plans to apply her passion as a zoologist. Her disabilities impair her hearing and learning. Lindsay is excited to learn more about computers.
Corey lives in Seattle and when he graduates high school, would like to attend the University of Washington and study chemical engineering. He is a motivated student and a skilled computer user. Corey has Tourette's dyndrome, obsessive-compulsive disorder, and epilepsy. "The single most important benefit of my computer usage is that it allows my teachers to read my assignments - my handwriting and spelling are atrocious."
Abe comes from Edmonds, Washington and has a visual impairment. His career goal is to become a paleontologist. "I enjoy physical science, especially working with magnets, exploring physical laws, and studying explosions."
Jessie is working hard in school so she can attend a college or university. Washington is her home. Jessie, who has cerebral palsy, thinks she might one day pursue a career in space sciences. She enjoyed getting a trial run at college life through DO-IT and meeting other Scholars.