Director's Digressions: DO-IT Japan's Anniversary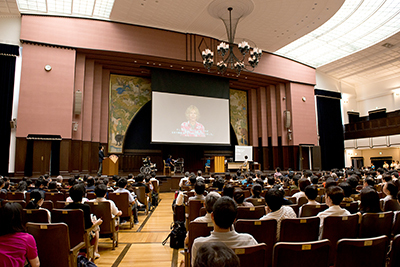 This summer, DO-IT Japan celebrated its 10th anniversary. Over 700 people attended the symposium in August 2016.
DO-IT Japan began the same year that Japan signed the United Nation's Convention on the Rights of Persons with Disabilities. This year, ten years later, Japan enacted an anti-discrimination law, the Act on the Elimination of Disability Discrimination (AEDD). "In this decade so far, we have tried to make fair educational environments for students with disabilities along with the development of the human rights system. In the next decade ahead, based on the fair educational opportunities, DO-IT Japan plans on cultivating Scholars as leaders who can produce new values in Japanese and global society," said Takeo Kondo, director of DO-IT Japan.
Similar to the DO-IT Scholars program in Washington State, DO-IT Japan conducts Summer Study sessions, provides mentoring, and otherwise supports students with disabilities as they pursue college and careers. To learn more about DO-IT Japan, visit their website at doit-japan.org/2016/.
DO-IT Director Sheryl Burgstahler congratulated the DO-IT Scholars in Japan by sending a video message, which can be viewed at www.youtube.com/watch?v=n60Im18300k&feature=youtu.be. In the video, she encouraged the Scholars to work hard, be flexible, and use resources. Finally, she challenged them to give back and apply what they have learned from DO-IT to help others along the way and make their society more inclusive of everyone—just like we expect of the DO-IT Scholars in the US.