Director's Digressions: Sheryl Shares DO-IT with South Korea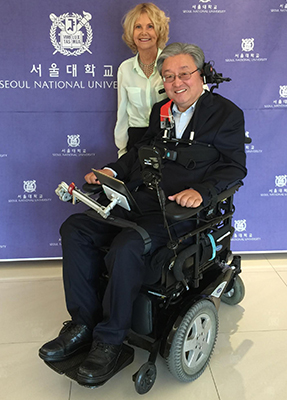 DO-IT Director Sheryl
Burgstahler
and Professor
Sang-Mook
Lee discuss ways that we can work together to improve the lives of people with disabilities.
In late October I visited several schools for students with disabilities, met with leaders who are working to improve special education services, and gave a keynote address at Korea's nation-wide special education conference. Dr. Takeo Kondo, Director of DO-IT Japan (http://doit-japan.org/2015/) also spoke at the special education conference and sent his best wishes to the DO-IT family in the United States. The conference was hosted by the Korea National Institute for Special Education, which was founded in 1994 with goals to improve special education and enhance the quality of life for individuals with disabilities. It plays a vital role in providing the basis for policy making and implementing it in practice throughout South Korea. In 2005, this organization sent a group of about thirty special education teachers to the DO-IT Center in Seattle for training on technology, programs, and teaching strategies for students with disabilities. I encouraged them to send another group to our Center into the future.
While in Korea, I also met with Dr. Sang-Mook Lee, a geology and oceanography Professor at Seoul National University (www.pbs.org/wgbh/nova/earth/lee-oceanography.html) and long-time collaborator with DO-IT. We discussed similarities and differences in our countries with respect to the education and employment of people with disabilities as well as further engagements between our countries in this regard. DO-IT hopes that we can help open a DO-IT program in South Korea to further people with disabilities in the country.