DO-IT Ambassador Profile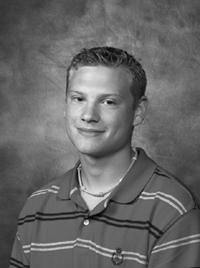 DO-IT Ambassador Benjamin
Hello, my name is Benjamin, and I graduated from Aberdeen High School in 2002. I am attending the University of Oklahoma (OU). During the summers of 2000 and 2001, I participated in DO-IT as a Scholar. Becoming a DO-IT Scholar was a wonderful experience. As a Scholar, I had the opportunity to meet interesting people, use cutting-edge adaptive technology, and experience what college life was like for the first time.
Now, as a sophomore at OU, I am working toward dual degrees in political science and economics. Following the completion of my undergraduate work, I plan on attending law school.
During my time at OU, I have enjoyed a great deal of campus involvement. I am currently the chair of Sooner Sense Expansion Initiative. The goal of this initiative is to expand OU's current on-campus debit card system to include local restaurants, clothing stores, and other commercial services. My responsibilities as chair include working with the university's administration to design the business structure for the expansion, develop and then implement a publicity campaign to educate OU's students on the new services, and oversee the selection of services to be included within the plan. This leadership opportunity has given me a chance to develop my business skills in a professional setting.