DO-IT Ambassadors Head to Tokyo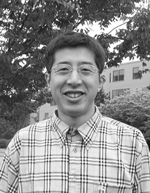 Dr.Mamoru Iwabuchi
This summer, for the first time, there will be a DO-IT Summer Study in Japan! Dr. Mamoru Iwabuchi is our partner in Japan. Many of you remember Mamoru from his year at the DO-IT center as a Visiting Scholar and his participation in Summer Study 2004. Dr. Iwabuchi is coordinating a week-long program (July 25-29) at the University of Tokyo for ten high school students with disabilities. Two DO-IT Ambassadors from Seattle, Chris S. and Stuart O., will be heading to Japan as Summer Study Interns to help in this very exciting Summer Study in Japan. Chris and Stuart are both looking forward to a week of hard work and adventure.
Summer Study in Japan will be very similar to the American experience. The Japan DO-IT Scholars will "meet" many of the U.S. DO-IT Scholars through our many videos. In addition, a panel of Washington DO-IT Scholars and Ambassadors will participate in the Japan session by meeting with the participants using iChat. The Scholars will visit Microsoft in Tokyo. There will be many guest lecturers from the University and community as well as hands-on computer activities.
To see the great things happening with our partners in Tokyo, check out the DO-IT Japan website at www.doit-japan.org.