DO-IT at Camp Courage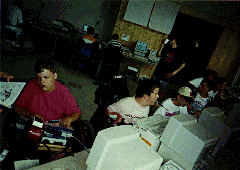 DO-IT Ambassador Rodney and Phase III Scholar Anthony "surf the 'Net" at Camp Courage.
College Preview Camp is an opportunity for teens with physical disabilities and/or speech, hearing or visual impairments to get an introduction to college life and get hands on experience with the Internet. The session is offered through a partnership between the University of Washington's DO-IT project and Courage Center in Minnesota.
Campers learn to access the wealth of information and support that is available on the Internet. They participate in daily workshops on topics ranging from how to choose and apply to a college to how to take a college campus tour on the 'Net. Sheryl Burgstahler, DO-IT Director, will be providing most of the Internet instruction. Scholars Jenny and Anthony will be her assistants.
Collge Preview Camp is not all work and no play - it is camp after all! The schedule allows ample opportunity to participate in typical camp activities like horseback riding, overnight camping, fishing, swimming, and other camp programs such as parties, dances and more.
College Preview Camp is open to any young person who has completed seventh grade or higher and has college potential. Although Camp Courage primarily serves Minnesota, Wisconsin, Iowa, South Dakota and North Dakota, participants from other states are welcome. If you would like to know more about costs and other details regarding this or any Courage camping program, contact:
Courage Center Camping Department
3915 Golden Valley Road
Golden Valley, Minnesota 55422
Voice: (612) 520-0504
TTY: (612) 520-0245
Email: camping@MTN.org