DO-IT Camps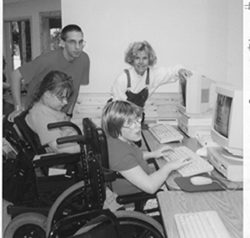 DO-IT Ambassador Kris and Director Sheryl Burgstahler help Camp Courage campers surf the Net.
Summer 2000 for DO-IT means that it's time to go to camp! DO-IT helps existing recreational camps for children and youth with disabilities go electronic! We give kids experiences with new tools for learning and fun and challenge participants with Internet and college preparation activities.
During the summer, DO-IT staff travel to existing camps for children and youth with disabilities to teach Internet and college and career transition skills. What a dynamic group of kids and staff! Some of our camper participants have become DO-IT Pals, using the Internet to explore academic and career interests and to keep in touch with other DO-IT participants and mentors.
This year, DO-IT participated in the Washington Muscular Dystrophy Summer Camp, Washington Summer Camp for Young Burn Survivors, Easter Seals Camp Harmon in California, Easter Seals Rocky Mountain Village in Colorado, Easter Seals Camp Reed in Washington, Easter Seals Computer Camp in Washington, and Camp Courage in Minnesota. Most activities were funded by the National Science Foundation and the State of Washington. Additionally, DO-IT received grants from Microsoft and Jeld Wen, and in-kind contributions from Easter Seals and the American Computer Experience (ACE) company to support this innovative technology training for youth with disabilities.
We are excited to share resources, teach Internet activities, support interactions and ultimately support academic and employment preparation.
If you are interested in learning more about DO-IT Camper activities, contact DO-IT.