DO-IT Camps 2000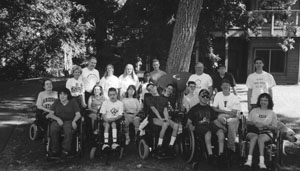 Camp Courage campers and staff
Summer is right around the corner and for DO-IT that means camps, camps and more camps. The DO-IT Campers program serves to teach children and youth with disabilities how to use computers, send electronic mail, and locate resources on the World Wide Web; prepare for success in college and employment; and network with other students and adult mentors with disabilities. DO-IT Camper activities are incorporated into existing summer camp activities and are tailored to individual camp needs and styles.
This year, in addition to our involvement with camps in Washington, California, Idaho, Minnesota, and Colorado, we have formed new partnerships with camps in Florida, Oregon, Maryland and Wisconsin! Here are some of the camps where you can expect to find DO-IT this summer:
Easter Seals Fairlee Manor, Chestertown, Maryland, 410-778-0566
Camp Courage, Maple Lake, Minnesota, 320-963-3121
Easter Seals Camp Wawbeek, Wisconsin Dells, Wisconsin, 800-422-2324
Easter Seals West, Vaughn, Washington, 253-884-2722
Easter Seals Camp Harmon, Boulder Creek, California, 831-338-3383
Easter Seals Camp Challenge, Sorrrento, Florida, 352-383-4711
Muscular Dystrophy Summer Camp, North Bend, Washington, 253-627-7575
Summer Camp for Young Burn Survivors, North Bend, Washington, 206-789-6838
Easter Seals Oregon, Medford, Oregon, 541-552-1199
Camp Lots of Fun, Puyallup, Washington, 253-798-4753
Easter Seals Rocky Mountain Village, Empire, Colorado, 303-569-2333
The Washington camps are supported with funds from the State of Washington. Camps outside of Washington are supported with grants from the National Science Foundation (grant #HRD 9800324), Microsoft, and the JELD-WEN Foundation.
If you are interested in attending any of these camps, please contact the camp directly. If you know of camps that serve students with disabilities and who would like to incorporate Internet and/or college or work preparation into their programs, contact the DO-IT office.